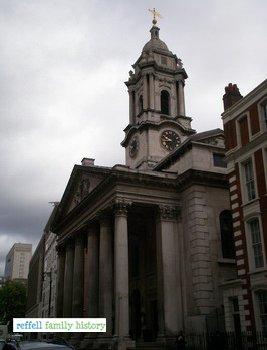 St George Hanover Square was another one of the 'fifty churches' set up by Act of Parliament in 1711, with the purpose of building new churches for the rapidly growing conurbation of London. That act did not achieve its target, but those which were built would become known as the Queen Anne Churches, another of which is St John Horsleydown. The parish was created from that of St. Martin-in-the-Fields and covered a large area stretching from Regent Street to Hyde Park, and from Oxford Street south to include all of what is now Mayfair, Belgravia and Pimlico. The church also gives its name to the registration and census district of a similar size, and also the parliamentary borough of St George Hanover Square from 1885 to 1918. In this context it is often referred to as 'St Geo Han Sq'.
The first stone was laid in June 1721, and the Church took three and a half years to complete at a total cost of £10,000. It was consecrated by Edmund Gibson, Bishop of London on 23 March 1725.
A regular worshipper here was George Frederick Handel, the composer. Further later musical connections exist as the church was featured in the movie My Fair Lady, where Eliza's father (Stanley Holloway) sings 'Get Me To The Church On Time', the fictional wedding being held here.
Unusually there was a detached burial ground some distance away from the church, being located north of the Bayswater Road opposite Hyde Park. the parish map shows a small incursion into the parish of St John the Evangelist for the purpose
Those known to have been married here:
William Alfred Reffell and Ethel Elizabeth Dawson, wedding date: 4/10/1898