Emma Reffell nee Barrett (1849-?)
18 Stafford Terrace, Kensington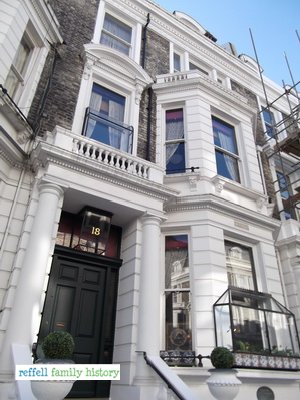 In the 1901 census there are 1,690,686 women who are listed as a domestic servant, which was about 40% of the adult female working population at that time. Although some were employed in large or extremely large households, it seems likely that most actually worked in homes with only a few servants. Treatment of the servants varied enormously and many came to be considered as part of the family, often living with them for decades. One such person was Emma Reffell nee Barrett, a servant to the Sambourne family for over thirty years.
Emma Barrett was born in 1849 at Allburgh Norfolk, the daughter of John & Jane Barrett. She married William Reffell on 20 November 1881 at Holy Trinity Church Havestock Hill and was six years older than him. William was the second son of John Reffell (1827-1891) a gardener and Amelia Champness (1829-1911) who lived in Pimlico. However it appears that Emma did not usually reside with her husband, being shown in the censuses of 1891, 1901 and 1911 as living with the family in Stafford Terrace. There also appears to be no children of the marriage and unfortunately William died at the early age of 36 in 1894. Emma was still working for the family in 1911 and remarried again later that year, when she was 62.

Much of what we know of the Sambourne family has been due to their surviving personal papers, and the house in Stafford Terrace which was sold to the then Greater London Council in 1980 and is now in the care of the local authority. It is kept today close to it's 1900s condition, the interiors are very evocative of the period confines of a typical middle-class home.
Another notoriety of the family was the photographic 'achievements' of Linley Sambourne. What started as a hobby taking photographs of the family dressed up to help him draw cartoons for 'Punch', took an interesting turn when he pursued a Miss Cornwallis to pose nude on a bicycle. In the words of Jeremy Paxman featured in his documentary series 'The Victorians'; "Quite why Miss Cornwallis needed to be naked in order to draw a cartoon of a vicar's daughter riding a bicycle is a question it would have been very interesting to hear him answer."
Indeed it would…

The house at 18 Stafford Terrace is usually open to the public on many days in the year, and at weekends there are guided tours by 'Mrs Emma Reffell, family cook & housekeeper'. The house is owned & operated by the Royal Borough of Kensington & Chelsea.