Charles Edmund Reffell (1895-1969)
Private 13086 2nd Corps The Coldstream Guards
Charles Edmund Reffell was born on 8 March 1895 at Clerkenwell to parents John Reffell and Mary Field. He was the youngest of four sons and also had two sisters.
Maurice Victor joined the army as a private in 1914 and served for 4½ years in The Coldstream Guards. During the Second World War he was an Air Raid Warden. An outline of his First World War service history is shown below.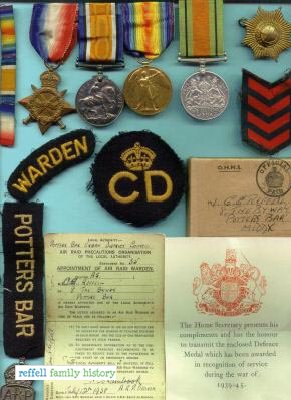 He was awarded the 1914/15 Star, the Victory Medal & the British War Medal in the First World War and the Defence Medal in the Second, which can be seen below on the left.
In 1923 he married Catherine Jenkins in the London district of Pancras. He died in Worcestershire during 1969 aged 74.
Medals & World War 1 Service History of Charles Edmund Reffell:
5/10/1914 Attestation at Holborn, age: 19
7/10/1914 Joined at Caterham
27/4/1915 Embarked Southampton
22/5/1915 Joined battalion in the field
18/7/1916 In hospital
8/1/1917 Appointed Lance Corporal
31/3/1918 Returned back to UK
31/3/1918 In hospital
18/5/1918 Discharged from hospital
24/12/1918 Posted to reserve
25/2/1919 Demobilised
Service details taken from 'Unburnt Document' series WO364 held in the National Archives at Kew and the Medal Rolls Index WO329, better known as the Medal Index Cards.