Maurice Victor Reffell (1896-1944)
Corporal 3396/206559 5th (Reserve) Battalion The Queen's (Royal West Surrey) Regiment
Maurice Victor Reffell was born in the last quarter of 1896 at Shere Surrey to parents William Joseph Reffell and Kate Maria Boorer. He was the second of three sons and also had four sisters. One of his brothers was Alan Herbert Reffell.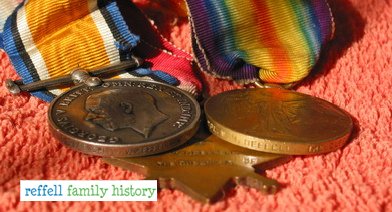 Maurice Victor joined the army as a private in 1914 and served for 4 years and 105 days, having been promoted to a corporal and been wounded twice. He joined The Queen's (Royal West Surrey Regiment), the second most senior regiment of the British Army. An outline of his service history is shown below. He was awarded the 1914/15 Star, the Victory Medal & the British War Medal.
In 1937 he married Margaret Jones in the Beulah Chapel at Caernarvon, unfortunately dying in that town on 4 July 1944 aged only 47. There was one daughter Doreen Margaret who was born in April 1940. Margaret married again and lived to the grand age of 100.
Medals & World War 1 Service History of Maurice Victor Reffell:
5/11/1914 Attestation at Guildford, age: 22
17/7/1915 In theatre of war
10/4/1916 At Alexandria, Egypt
5/5/1916 At Fayoum, Egypt
17/7/1916 Embarked at Devonport for MEF on HMT 'Ulysses'
5/8/1916 Disembarked Port Said
17/8/1916 Embarked HMT 'Canada'
10/10/1916 Disembarked Gallipoli
26/3/1917 Wounded in action
6/8/1917 Attended Army Sniping School, result 1st class 88%
4/11/1917 Wounded in action again, gun shot wound to left knee, Syria
20/11/1917 Discharged Mohamdiya Hospital to Kantana
2/4/1918 Promoted to Lance Corporal (unpaid)
17/6/1918 Embarked Alexandria
23/8/1918 Two weeks leave in the UK
18/9/1918 Promoted to Corporal
19/1/1919 Embarked Dunkirk for Dover
20/1/1919 Dover Dispersal Unit
31/3/1920 Discharged to reserve
Service details taken from 'Burnt Document' series WO363/R56 held in the National Archives at Kew and the Medal Rolls Index WO329, better known as the Medal Index Cards.