Alan Herbert Reffell (1895-1979) Pilot 759 Royal Flying Corps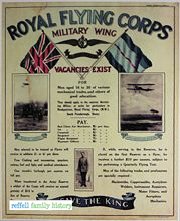 Alan Herbert Reffell was born on 14 March 1895 at Shere Surrey to parents William Joseph Reffell and Kate Maria Boorer. He was the second of three sons and also had four sisters. One of his brothers was Maurice Victor Reffell.
Alan Herbert joined the Royal Flying Corps before the outbreak of the war in 1913 aged 18. When he took his Royal Aero Club Aviators' Certificate in 1915, he was listed as having flown on a Maurice Farman biplane. An outline of his service history is shown below. He was awarded the 1914 (Mons) Star, the Victory Medal & the British War Medal.
After the Great War, Alan Herbert ran a motor business in Gomshall Surrey as well as working on a number of interesting projects, including Eric the Robot. He died on 26 October 1979 at Crawley Sussex aged 84.
World War 1 Service History of Alan Herbert Reffell:
30/6/1913 Attested Farnborough
2/8/1914 Posted
15/9/1914 To France
2/6/1915 Posted Air Mechanic
30/11/1915 Flyer 2nd class
17/5/1915 Awarded Royal Aero Flying Club certificate, British Flying School, Le Crotoy, France
18/5/1915 To UK
1/3/1916 Promoted to corporal
30/5/1916 Flyer 1st class
1/5/1916 Promoted to sergeant
7/6/1916 To France
8/7/1916 To UK
1/4/1918 Transferred to the Royal Air Force
16/8/1918 Delivery pilot
18/11/1918 Test pilot No2 AAP Hendon
1/1/1919 Reclassified Sergeant (Pilot)
3/7/1919 Transferred to reserve
29/6/1921 Discharged
Service details taken from RFC service file AIR78/132 held in the National Archives at Kew and the Medal Rolls Index WO329, better known as the Medal Index Cards. Other information from his Royal Aero Club Aviators' Certificate.