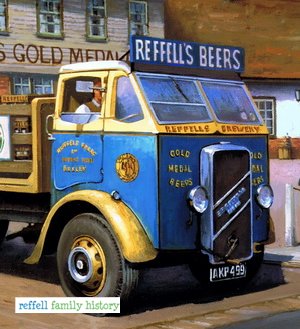 The founder of the Foden vehicle builders of Sandbach Cheshire was Edwin Foden born in 1841. His second son by his first marriage Edwin Richard was born in 1870 and on the death of his father in 1911 Edwin.became joint Managing Director until 1932. Edwin's elder son Dennis was a salesman for the company who resigned in 1933 to establish his own company just down the road in Sandbach. Owing to his father's reputation it was decided to establish it as ER Foden & Son (hence the name ERF).
Work began on a completely new lightweight diesel lorry in April 1933 and by August prototype chassis number 63 was ready.
These early four wheelers were an instant success and Reffells Bexley Brewery Ltd. took delivery of chassis number 71 (registration AKO 942) on 12th December 1933. This was followed by chassis number 75 (registration AKP 499) later that month and thus Reffells Bexley Brewery Ltd. became the first operators of ERFs built for dray work.
In 1944, one of the lorries transported the company's long standing Managing Director Percy Waistell to his funeral at St Mary Bexley.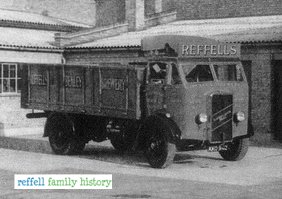 It is not known how long the two lorries remained with the company, but AKO 942 was requisitioned by the War Department and as late as 1958 was with an operator at Mownan near Falmouth in Cornwall.
Initially, the Reffells vehicles carried a very distinctive blue livery with gold lining to emphasize their gold medal ales (see above). By the 1950s this was changed to an all-over colour.
At the Wheal Martin China Clay Museum near St Austell in Cornwall, there is a similar 1934 ERF model CI5 chassis number 105 with the registration of YD 9325.
Many thanks go to Alan Bedford for the information in this article. The extract from the painting of AKP499 is by Mike Jeffries.