Henry Reffell (1817-1886)
John Reffell (1853-1928), William Robert Reffell (1855-1948) & Arthur Henry Reffell (1858-1907)
Henry Reffell left the Somers Arms in Redhill, and in March 1876 opened a new brewery on a green field site in Bourne Road Bexley. This was to eventually become the most successful Reffell brewery, albeit by then outside the control of the family. Little is currently known about the earliest brewery at Bexley.
Henry died on 8 September 1886 and was buried at the church of St Mary Bexley. He had married Mary Ann Prikler at Godstone in 1852, and she was buried with him when she died on 14 January 1890. They had three sons & one daughter; John (1853-1928), William Robert (1855-1948), Arthur Henry (1858-1907) & Bertha Annie (1867-1963). During 1879 John married Harriett Alma Prikler, who was his mother's niece. Bertha Annie never married and lived on the brewery site until after it was sold, moving to Godstne and Redhill, eventually dying in Rustington Sussex at the age of 95.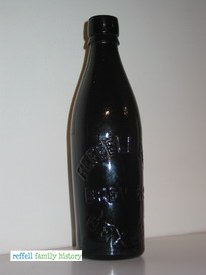 The brewery concern now passed to Henry's three sons and was renamed as the Reffell Bros. Brewery. William dealt with the brewing side and Arthur handled the office, the wines and the spirits departments. John also worked at the brewery, although by 1891 he had retired and moved to Ramsgate before finally moving to Godstone. The business expanded and the sales at that time consisted mainly of beers, wine and spirits to local public houses. There was also a little direct retail trade. A front page advertisement on the Bexley Heath & Erith Observer of 3 November 1888 showed the brewery was offering a range of ten beers from the XXXK Stock Strong Ale, to the AK Light Bitter (which was highly recommended for families).
Around the turn of the century many breweries needed to expand and re-equip with modern machinery in order to remain solvent. Accordingly the company was put on the share market and Reffells Bexley Brewery Limited was registered on 3 December 1898 to acquire the business, the purchase price was £185,000. This gave a much needed boost to the finances, but unfortunately things did not go well for the company initially. Arthur Henry retired at the age of 41 and died only nine years later at Nutfield. After some disagreements, William Robert left the board and his post of Managing Director in December 1900. He also died in Rustington, at the age of 93. Thus the direct family connection to the brewery at Bexley came to an end.