John William Reffell (1844-1897)
Paddington in the second half of the late 19th century was not the rustic suburb that it had been a century before. Earlier it may have been the presence of the Tyburn Tree gallows that stood until 1783 that discouraged the gentler classes from setting up home here. The Bishop of London owned much of the area and when the Grand Junction Canal was completed to the Midlands in 1805, the area was thought to be ripe for development. During the early 1860s the Metropolitan Railway was built, ripping through the area between Baker Street and Bayswater, using a technique called 'cut & cover'. Opening in January 1863 it was the first underground railway in the world. By the turn of the century, in Paddington it was a time of constant traffic jams, much digging for pipes and sewers, and given the number of horses used on the street, somewhat aromatic.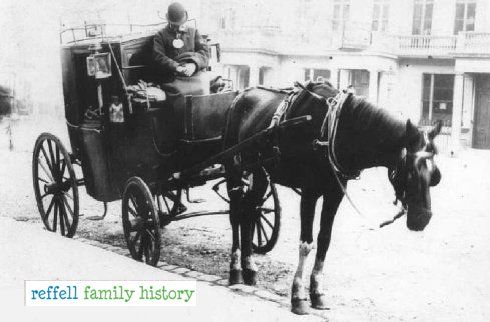 The most significant built-up area was around the triangle formed by Edgware Road, Praed Street and Bayswater Road. More modest housing developed to the north, including the area that is now known as Little Venice. Amongst the large houses there were a number of back street stables with living accommodation, that were called a mews. In one of these mews named Adpar Street, John William Reffell and his wife Mary Ann (nee Jones) lived and worked as a cabman. The horse-drawn buses and underground steam trains would have been some competition to John William's cab business, although his clientele would probably not have been the sort to frequent noisy trains and buses. This area was all swept away during the 1960s and replaced with a fairly bleak concrete housing estate and what was then Paddington Technical College. Cabmen worked very long hours in all weather conditions, and this may well be a factor in why John William died at the early age of 52 through pneumonia. He was buried at Paddington Old Cemetery in Willesden Lane. Mary Ann lived for another forty years moving out to the new suburbs built around Edgware during the 1920s. She is buried at Hendon Park Cemetery.
In 1895 there were nearly 11,000 cabs in London, but only ranks for 3,000, which meant that many so-called 'crawlers' were continuously on the move causing severe traffic congestion. To provide the cabmen with some degree of refreshments and shelter, sixty four cabmen's shelters were built, of which thirteen survive to this day. The Public Carriage Office at the old Scotland Yard, which came into being during 1858, carried out cab regulation. It was only at a later date that this area came to be associated with the Metropolitan police. There were two main types of cab at that time, the well known Hansom and the four-wheeled Growler (shown above).