Frank Leslie Reffell (1895 – 1931)
Before the start of the First World War, there was a youth migration scheme for boys administered by the South Australian Government that sent 172 boys from the United Kingdom to become farm apprentices throughout the state of South Australia. For most of these boys it was the best possible chance that they would ever have to escape any unfortunate poor start in life.
One of these boys was Frank Leslie Reffell who was born in the Southborough area of Tunbridge Wells and together with his sister Bessie, they did not know who their father was. It can be speculated that they were from a certain individual in the Tunbridge Wells branch of the Reffell family, but at this distance in time that is now somewhat irrelevant. Frank was sponsored by the Kent Colonising Association, based in Tunbridge Wells and led by the the Reverend RL Gwynne, which had been formed around 1905 and had also sent apprentice farm boys to Canada and Tasmania. At 20 years old, he was a little older than most of the boys and stated that he had worked on farms since he was 14, although his reference was from a shopkeeper. The passage cost of £7 was loaned by the South Australia government, and was to be repaid in monthly installments from his future farm wages. He was also loaned £2 from the Kent Colonising Association for clothing.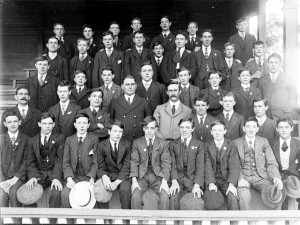 Frank arrived in Australia aboard the SS Orsova on 11 June 1914. The photograph on the right shows the boys who arrived on that ship and was taken behind the Exhibition Building at the Jubilee Oval, North Terrace, Adelaide. At present it has not been possible to identify which one is Frank, so if anyone is able to help then please get in touch. Photographs of boys from other ships can be seen by clicking on the photograph. Frank Leslie was sent to farmer DN Martin at Pittenween Farm, near Kadina, northern Yorke Peninsula. He would have only been obliged to stay with the farmer for twelve months as he was too old to sign a three year contract. Additionally because of his age he was not apprenticed under the 1913 Immigration Act, and hence would not be liable for compulsory military training. The wages to be paid were 15/- rising to 30/-, although due to the economic conditions of the time he was paid less than the initial amount promised. This was despite farmer Martin stating that that Frank was settling in well, being able to milk and steadily improving in the saddle.
Unfortunately fame and fortune was not to be, Frank died of testicular cancer in Port Augusta hospital on 22 March 1931, and was buried in the cemetery there on the following day. He was listed in the cemetery records as a labourer aged 36 and was still single.
Meanwhile, sister Bessie stayed in the UK and married William King of the Canadian Military Police in Seaford, later moving back to Tunbridge Wells where there at least two children were born, although one is known to have died at a very young age.
The above information is kindly based on the research carried out by Elspeth Grant for her PhD with the School of History & Politics at the University of Adelaide in South Australia.
The photograph is provided here by kind permission from the The History Trust of South Australia Glass Negative Photographic Collection no. 1102.
Other research by John Reffell at the Surrey History Centre.