Professor John Milne, DSc FRS FGS
Almost forgotten in today in the United Kingdom, 'Earthquake' Milne is still renown throughout Japan as the inventor of the seismograph, and even today people from that country still travel half way across the globe to pay homage at his grave on the Isle of Wight.
The only child of John Milne (1822-1871) and Emma Twycross (1823-1897), John Milne was born at Mount Vernon, Edge Hill, Liverpool on 30 December 1850. Emma was the granddaughter of John Twycross (1747-1840), who was also the grandfather of Rebecca Burchatt, the future wife of Henry Hatch Reffell. After his father died in 1871, his mother married James Arnott (1822-1907) in 1875. He was a first cousin of explorer William Scoresby Routledge.
In 1875 John Milne was offered a three year contract as Professor of Geology & Mining at the Imperial College of Engineering in Japan. For the next year he traveled mostly overland from Hull across the Russian Federation and onto Tokyo to take up his new position.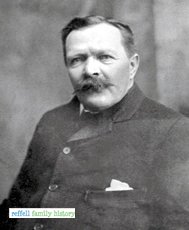 He was soon teaching and in 1877 he began to investigate Japan's volcanoes. A year later he turned his attention to earthquakes and the one in the Tokyo/Yokohama area that took place on 22 February 1880 was to be the turning point in John's career. Jointly founding the Seismological Society of Japan, and means were found to detect and measure earthquakes. Aa a result of this work, John Milne is generally credited with the invention of the horizontal pendulum seismograph.
A personal earthquake took place on 12 June 1895 when John married Toné Horikawa, a geologist in her own right, the eldest daughter of Jokyo Horikawa. Interestingly this was the second time they had married, this time it was under British law, as they planned to return to the UK later that year.
They settled at Shide Hill House, south of Newport on the Isle of Wight. In 1901 census they are shown there with John's step-father James Arnott, by then a widower, as head of the household. Also shown on the census is their close colleague Shinoba Hinota, professor of astronomy Herbert Turner, cook Alice Spragges and their housemaid Lizzie Mew. Toné is shown as a naturalised British Subject.
John Milne died of Bright's Disease at Shide Hill on 31 July 1913 and was buried at St Paul Newport Isle of Wight alongside his mother and step-father. After John's death, Toné's health also deteriorated and she returned to Hakodate in Japan, where she lived until she passed away in 1919. There were no children.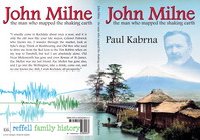 This article is by necessity quite brief, more information can be found in a book about his life and times 'John Milne – the Man who mapped the shaking earth' was published in 2007 by the Craven & Pendle Geological Society. Extremely well researched by the author Paul Kabrna, the book can be purchased at a very reasonable price either from the society or online from Amazon.
Many thanks go to Paul Kabrna for much of the information in this article about a member of the extended Reffell family. Other material researched by John Reffell.