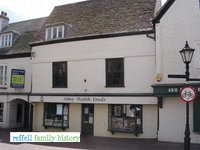 John Reffell was baptised on 19 March 1788 at Epsom and married Sarah Poole around 1785. He had a sister called Mary who married Henry Terry around 1815 and they had at least three children, the eldest being baptised Sarah Reffell Terry on 28 October 1825 at St Giles, Cripplegate.
Between at least 1822 and 1840, John was the publican of The Greyhound at 3 Sun Street, Waltham Abbey. By 1841 he seems to have retired and is living at Upshire, Waltham Abbey with Sarah as his housekeeper.
In 1851 they are still together at 8 High Bridge Street, but John was to die in the last quarter of 1853 and Sarah married Samuel Lowin early in the following year. In keeping with some tradition, their first child was called Charles Terry Lowin and their second William Reffell Lowin.
The photograph on the right shows how The Greyhound looked in June 2007.
Many thanks to Stephen Harris and Essex Pubs for the photograph.