The King Farmers of Abinger Hammer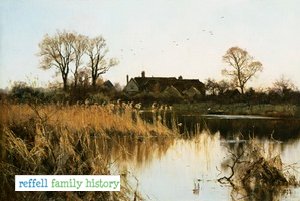 Abinger Hammer is a small village on the old A25 to the east of Gomshall and was once a very important centre of the wealden iron industry. The River Tillingbourne flows through the village and forms a number of hammer ponds, once used to power forges and giving the village part of its name.
Abinger is a sizable rural parish, extending nearly nine miles from north to south and about one mile wide. It is conjectured this village received its name from abin, an eminence, or rising ground. In 1821, this parish contained seven hundred and forty-two inhabitants, occupying one hundred and sixteen houses. In the parish of Abinger are three manors; Abinger, Paddington Pembroke, and Paddington Bray. There are two places with the name Paddington, here and the more well known one in London. The origin as a place name in Surrey comes from 'Padda's or Patta's valley', and is derived from the Old English personal name 'Pad(d)a', as before, and the Old English 'denu', valley. It was first recorded here as "Padendene" in the Domesday Book of 1086.
Paddington Farm has existed here for a number of centuries and still exists. The farm house has described as 'A fine mediaeval 3 bay hall house with integral jettied 4 bay wings'. The English painter Edward Wilkins Waite (1854 – 1924) painted a number of subjects in the Abinger area, including Paddington Farm in 1896 (see the painting on the right).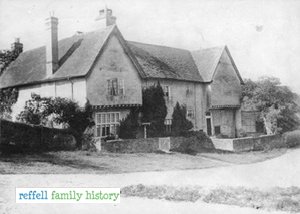 For many generations Paddington Farm was farmed by the King family of Abinger. In 1841 it was being farmed by three unmarried brothers; George, Charles & Mark following the death of their father George King in 1827. By 1951 one brother had been married and moved out.

On 21 November 1849, Caroline Reffell (third daughter of John Reffell (1781-1838) & Elizabeth Smith(1790-1865) of the Gomshall Brewery branch of the family) married Mark King at the church of St James in Shere. Initially they settled in Shere and in 1861 were farming at High House Farm, adjacent to the church. Upon the death of his elder brothers, Mark had moved their family back to Paddington Farm by 1871. They had six children; Mark (1851), Caroline Elizabeth (1853), Kate (1853), Fanny (1857), Charles(1860) and Rosa (1862). Mark died at the farm during 1896, Elizabeth had predeceased him in 1888.
Following the death of their parents, the family split up and ceased farming at Paddington Farm. Rosa married Thomas Smith in 1882 and is shown as living in Farnham Road Guildford in 1891 and also in 1901, where her single sister Kate is with her. As can be seen in the photograph below, the lovely farm house today still stands.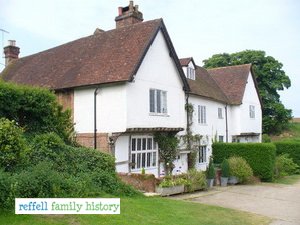 1841 George King 40, Charles King 35, Amelia King 30, Mark King 20
1851 Charles King 47, George King 51, Matthew King 35, Ann Southam 52, Harriet Edson 16, James Hansell 18, William Lingham 17, Henry Freelove 16
1861 Charles King 57, George King 61, Matthew King 45, Richard King 14, Ann Souther 61, Ann Sykes 23, Ephraim Elms 16, Abner Elms 13
1871 Mark King 53, Caroline King 51, Mark King 20, Caroline Elizabeth King 18, Charles King 11, Emily Ann Woodward 21, George Bridger 16
1881 Mark King 63, Caroline King 61, Mark King 30, Kate King 26, Fanny King 24, Charles King 21, Rosa King 19, Alice Tanner 19
1891 Mark King 74 (widower); Mark King 40, Caroline Irving 38, Kate King 36
1901 Maurice Chrismas 27, Elizabeth Chrismas 24, Osman Chrismas 23, Ester Chitty 15, Walter Whittles 33, Mary Ann Whittles 28, Ivy Whittles 6, Rosa Whittles 1
1911 Maurice Chrismas 37, Elizabeth Chrismas 33, Donald Chrismas 9, Ethel Lace 33
The 1889 photograph is from the Surrey History Centre's collection and the present day photograph of Paddington Farm is by kind courtesy of Colin Smith.