152 acres of arable land and 100 of meadow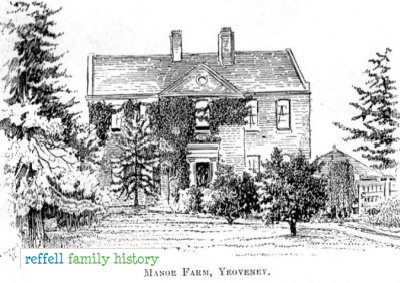 William Reffell had moved around the country before coming back to farm in Buckinghamshire. He had began as an iron monger in the north, and his wife, Sarah Ann Rodgers was born at Whitehouse in Shropshire.

The eldest son Raymond was also there born in 1878. The next five children; William Percy 1880, Jessie 1882, Norah Alice 1883, Herbert Alfred 1886 and Joseph Harold 1887 were born in Peterborough, and finally Ethel Margery was born back at Staines in 1891.

William died in 1928 at Croydon, and Sarah Ann died at Cookham in 1940. They are both are buried at the church of St Michael Horton.
As with Manor Farm Wraysbury, we have a good idea of the farms thanks to the newspaper report of January 1896. Electricity had arrived during 1895, but this had been preceded by a telephone link that had been installed between the farms around 1893.

At the time of the article, in regular employment were two foremen, sixty-five men and boys and ten women. Amongst the produce of the farms were wheat, grass and flowers. Vegetable products produced were beans, peas, cabbage, cauliflower, broccoli, turnips and potatoes.

These were sold through an outlet at Covent Garden, and there was also a considerable supply of milk, both locally and through an outlet at 101 Kew Road, Richmond-upon-Thames.

It was stated in the article that very few such extensive farms existed at that time so close to the metropolis. However, it was this closeness that was to ultimately be their demise, being swallowed up by the water needs of the inhabitants of London.
The drawing of the farm above comes from the 1896 article and the photograph on the left also dates from around the same period.
Today Yeoveney Farm is under the 1967 Wraysbury Reservoir. Interestingly, there is a residential area called Yeoveney Close just to the south-east of the reservoir.
Farmers:
1891 William Reffell
1901 William Reffell
1939 Frank L Greenwood
Photograph kindly contributed by and © Marion Barnes