5th Battalion, Canadian Infantry (Saskatchewan Regiment)
Died on Saturday, 10th November 1917 aged 53
Personal Information:
Harry Rattle was born 28 June 1863 at 5 Searle Street,Lincoln Inn's Fields, the son of Henry Rattle and Mary Murrey Kirk. He was baptised on 9 August 1863 at the church of St Brides in Fleet Street.
He married Helen Kate Newman at Bloefield Norfolk in 1887 and they lived at the Red House, Plumstead Road, Norwich. There was one son, Henry Newman Rattle who was born in August 1888 at 43 Trinty Square, Lambeth. He was baptised on 26 August 1888 at the church of St Mary at Lambeth.
Attestation: 17/5/1916 Yorkton, Saskatchewan.
Henry Rattle was the uncle of James Henry Rattle who also died in Flanders on 16 April 1918 and is commemorated on the Ploegsteert Memorial.
Note:
It would appear that Harry Rattle deliberately lied about his age in order to join up, as on the Canadian Archives website his attestation shows that he stated that he was ten years younger than he actually was. To avoid this being found out, he also said that he was born in Norwich, which was his wife's birthplace. His next of kin was stated as Mrs Mary Bott, sister, 43 Winchester Road, St Margarets on Thames, Middlesex who was actually his married sister.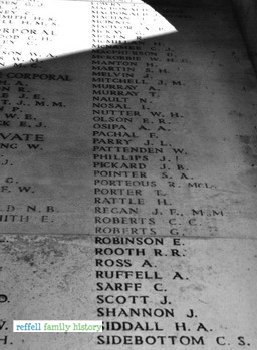 Memorial:
Pane 18 Menin Gate Memorial, Ieper, West-Vlaanderen, Belgium