11th Battalion, King's Royal Rifle Corps
Died of wounds on Friday, 10th August 1917, aged 21
Personal Information:
Alfred George was born in February 1897 at Deptford, Surrey, the son of James John and Alice Maud Reffell. He was baptised at the church of St Barnabas in Rotherhithe on 21 February 1897. The family lived at various addresses in Fawcett Road, Rotherhithe for many years.
Historical Information:
The Third Battle of Ypres
On 7 June 1917 the British attacked and captured the Messines Ridge, a dominate feature that extended northwards to the German-held Passchendale Ridge. On 31 July, the British attacked again, but floundered in mud and rain in an assault that earned General Haig the title of 'Butcher'. Haig realised that the French would have to be left out of any immediate plans for an offensive and was still determined to prove himself as a commander before the Americans arrived. Thus to help the French he persuaded a reluctant War Cabinet to sanction what became the 3rd Battle of Ypres, or simply 'Passchendale'.
The preliminary bombardment began on 22 July with over 3,000 guns hurling almost five tons of shell at every yard of the front. This bombardment totally destroyed the drainage and water table, shell holes filled to overflowing and the earth turned into a thick glutinous mud, stinking and foul with the decay of dead horses and thousands of corpses.
It is probable that Alfred George was wounded during the battle of Pilckem, which lasted from 31 July to 2 August, and was transferred back to the Casualty Clearing Station at Dozinghem where he died a few days later. At the begining of the British offensive, groups of Casualty Clearing Stations were placed in readiness at three positions called by the troops with typical Tommy's humour, Mendinghem, Dozinghem and Bandaghem, after the many local place names ending with 'hem' meaning settlement.
After 16 weeks of fighting in the most appalling conditions, Passchendale Ridge was finally won at a cost of over 300,000 British losses. All these gains were lost in the final German advance of 1918.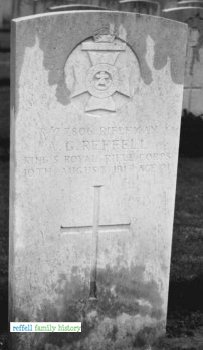 Cemetery:
Grave III D 11 Dozinghem Military Cemetery Westvleteren, Poperinge, West-Vlaanderen, Belgium.