Royal Air Force Volunteer Reserve.
Killed on Active Service on Friday, 6th February 1942 aged 21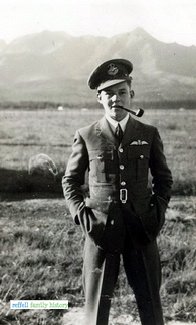 Personal Information:
Anthony Hugh Denison Roberts was the son of Hugh Denison Roberts and of Hilda Frances Buckenham, who later married Alfred Reffell.
Tony was educated at Eastbourne College and prior to the war was working at the Royal Veterinary College. He volunteered for the RAF at the outbreak of hostilities.
Historical Information:
Pilot Officer AHD Reffell is shown in the Royal Air Force List 1942 with a seniority date of 1/3/1941.
On 6 February 1942, FO Spencer-Schrader, FSgt Heavisides and PO Reffell prepared for dual night flying training in Bristol Beaufort Mk I, registration L4499. Their flight took off from RAF Chivenor at 06:05 when the aircraft suffered an port engine failure in the initial climb out. This was a common occurrence on the Beaufort, which then crashed on in front of a house called 'Sundown' in Down Lane Braunton. There were no survivors and sadly one civilian was also killed on the ground.
Aged 23, Flying Officer 81647 Robert Frank Spencer-Schrader is buried in the churchyard of St Augustine, Heanton Punchardon, Devon. There are one hundred and twenty six war graves here, the majority being wartime and post-war RAF, St Augustine being situated only one mile and looking down on RAF Chivenor.
Also aged 23, Flight Sergeant 802520 William Leonard Heavisides was taken back to his home town of Glasgow and buried in the Western Necropolis there. Heavisides was the son of William and Margaret Elizabeth Heavisides.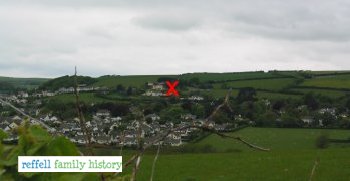 Miss Esther Cantor from Braunton was a spinster aged 54 and ironically had been evacuated from Ramsgate in June 1940. Esther died from injuries sustained after the crash the following morning, in the North Devon Infirmary in Barnstaple. There was an inquest held into her death and this was reported in the North Devon Journal without any reference at all to the plane crash, only that the house had caught fire.
From the crash site (shown by a red cross on the photograph above) RAF Chivenor can be easily seen to the south. No sign of the crash or the house called 'Sundown' now exists, with new property slowly making its way up the narrow lane.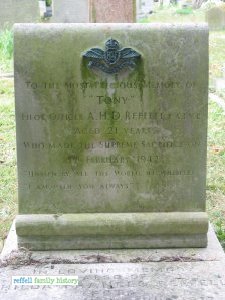 Cemetery:
The churchyard of St. Andrew, Wraysbury, Buckinghamshire.
"TO THE MOST PRECIOUS MEMORY OF
"TONY"
PILOT OFFICER A.D.H. REFFELL RAFVR
AGED 21 YEARS
WHO MADE THE SUPREME SACRIFICE
6TH FEBRUARY 1942
"UNSEEN BY ALL THE WORLD, HE WHISPERS
"I AM WITH YOU ALWAYS""
————————————————–
Many people have helped with information about this article. Grateful thanks go to Ross McNeill and Dave Hatherell for help with information regarding this aircraft loss, with further details taken from the RAF Chivenor Operational Record Book; National Archives reference AIR28/152.
Extra special thanks go to Brian Clarke of Braunton for his help in identifying the crash site on the ground, and to David Lindsay for the valued photograph of Tony.