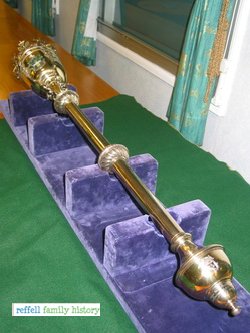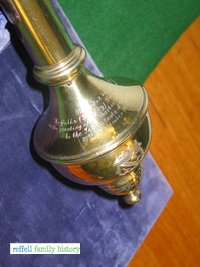 The Kentish Times, 29 May 1953
From Father to Son
"In 1937, Mr. P. H. Waistell, on behalf of Reffell's Brewery, Bexley, presented to Bexley Corporation the mace which has been in use ever since. It had a head, a short stern and base made of silver gilt. Mr. Waistell wrote to the Town Clerk stating that he intended to complete the mace later by adding a longer stem. But Mr. Waistell died before he could do this.
Now, his son, Mr. Jack Waistell, has informed the Council that he and his fellow directors would be glad to carry out his father's intention in time for the Coronation.
In 1943, a silver gilt knob was presented to the Council for the mace by Air Commodore E. J. Dixon, O.B.E., who also gave to the town the children's playground at Danson Park. The Council added the present wooden stem, made of walnut.
The Town Clerk, Mr. W. Woodward, is custodian of a small sum left over from the Regalia Fund inaugurated by Alderman G. Williams and part of this will be used to put on three supporting brackets for the main bowl or cup at the top. When completed the mace will be 3ft. 4in. long and all in silver gilt. It now weighs 5½lb.
Undoubtedly it will be one of the finest pieces of regalia in the county. The work will be done by a Regent-street firm. Donations towards the Council's contribution (from publicly subscribed money, as it is illegal to spend rates for this Purpose) will be welcomed."