Abney Park Cemetery is very different in character to the other 'Magnificent Seven' London cemeteries. Originally conceived as an arboretum, is now so overgrown that it is difficult to find any specific grave without help from the trust's volunteers and a good pair of pruners. Today it is a quiet wildlife refuge in a heavily built-up part of London, and a very large number of the headstones and memorials survive in good condition, if not a little overgrown.
Abney Park Cemetery extends over 32 acres and for 150 years the site was the grounds of two large 17th century houses: Fleetwood House and Abney House. The name Abney comes from Lady Abney who inherited the Manor of Stoke Newington in the early 1700s. The cemetery was opened in 1840 by a group of trustees whose aim was to give everyone a last resting place, whether of the Anglican faith or not. To this end, Abney Park has never been consecrated. In this way it was a continuation of the principles of Bunhill Fields, which closed the same year. In its peak, Abney Park had up to 20,000 burials a year.
The original arboretum concept fell to more commercial pressures when the Abney Park Cemetery Company took over the cemetery in 1881, later adding Chingford Mount (1883), Greenford Park and Hendon Park (1899) to their portfolio. In time even these companies were to fail as the cemeteries began to fill in the 20th century, and maintenance was reduced to minimal proportions. During the 1950s groups of 'common graves' were dug along some of the main paths and driveways, but this too was a dwindling resource and the Company collapsed. In January 1979, ownership of Abney Park passed to the London Borough of Hackney for the sum of £1.
The years of neglect were in fact beneficial to preserving a woodland environment that could have been lost as in some other cemeteries. Still owned by the council, the cemetery is leased to the Abney Park Cemetery Trust. In total there are over 200,00 recorded burials and an online index is available, but the Trust office needs to be contacted to establish an exact grave position, for which a fee is payable. The full story of the Cemetery can be found in a book 'A Guide to Abney Park Cemetery' by Paul Joyce, also available from the Trust.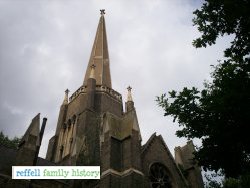 Those known to have been buried here:
Mary Reffell, age: 77, burial date: 2 January 1862, remarks: common grave, no headstone surviving
Julia Agnes Reffell, age: 59, burial date: 18 February 1896, remarks: headstone surviving
Frederick Reffell, age: 82, burial date: 15March 1921 (in the same grave as his wife Julia Agnes)
James Waghorn Reffell, age: 69, burial date: 8 July1946 (common grave, no headstone found)