George Peabody and the Peabody Trust
George Peabody (1795-1869) was born in Massachusetts USA, one of eight children, he left school at the age of 11 to work and help support his family. He made his money importing and exporting wool, linen and dry goods and then moved into merchant banking. George first visited Britain on business in 1827 and ten years later took up residence in London, where he remained for the rest of his life.
He became acutely aware of poverty in the capital and was keen to help. Lord Shaftesbury suggested he could do so by supporting low rent housing. In 1862 he set up The Peabody Donation Fund and the first dwellings for the "artisans and labouring poor of London" were opened in Commercial Street Spitalfields in 1864. These flats housed 66 low income families and included provision for shops and laundries.
Today there are over twenty organisations located in both London and America, which owe their existence to George Peabody and reflect his varied interests in the fields of housing, education, music, science and merchant banking.
Peabody Buildings, Clerkenwell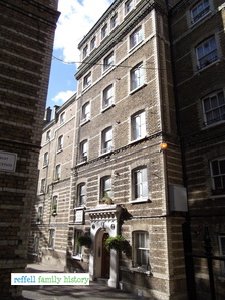 The Peabody Buildings in Clerkenwell were blocks of Improved Model Dwellings for the respectable working class, which replaced the slums with neat and clean small flats. The living accommodation was self contained, though the kitchen areas tended to be communal for all but the most basic cooking. Sanitary provision was also originally provided in sets. They lacked bathrooms at a time when only the extremely rich had them. All the tenants were carefully selected and were expected to be in good steady work.
The Peabody estate in Clerkenwell borders on Farringdon Lane and includes ten original Victorian flat blocks, now with a small number of houses dating from the 1960s.
Those known to have lived here:-
1891 Block H 7 – John (Jeweller & Gold Polisher), Mary, John Henry (Errand Boy), James W (Errand Boy), Caroline Hilda (Scholar), Florrie Amelia & George Thomas Reffell
1901 Block B 21 – Mary (widow of John), Caroline Hilda (Diamond Polisher) & Charles Edmund Reffell
Grosvenor Estate, Gatliff Road, Pimlico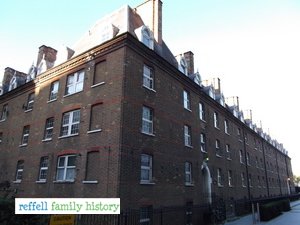 The first Model Lodging Houses in Pimlico were erected on the Grosvenor property in the 1850s in Grosvenor Mews and Bourdon Street by the builder John Newson and the St George's Parochial Association. The existence of these buildings and their effect upon the neighbourhood impressed the second Marquess of Westminster, for in the late 1860s a policy was introduced in which both he and his son Earl Grosvenor, the future first Duke, were personally involved. The stated aim was to encourage further improved dwellings on his estates.
The Estate's earliest and largest venture was Gatliff Buildings on what is now Ebury Bridge Road, which was erected in 1866/7 to house one hundred and forty nine families by the Metropolitan Association for Improving the Dwellings of the Industrious Classes. In this project the second Marquess was closely involved, as the Metropolitan Association was short of funds and could be enticed to build only when he agreed personally to advance them the necessary capital of £21,000 at a low rate of interest. As a result the Estate was in full control of the enterprise, and Thomas Cundy III became the architect. Today the estate is surrounded by new build flats and apartments, the price of which would truly amaze the Marquess.
Those known to have lived here:-
1871 – 10 Gatcliff Buildings – Amelia, William (Errand Boy), Henry Joshua (Scholar) Reffell & Adelaide Champness (Servant/Sister)
1881 – 75 Gatcliff Buildings – John (Gardener), Amelia (Charwoman), William (Draper's assistant) Reffell & Adelaide Champness (Sister-in-law)
1891 – 75 Gatcliff Buildings – John (Gardener), Amelia, Adelaide & William (Painter) Reffell
1901 – 78 Gatcliff Buildings – Amelia Reffell (Widow) & Adelaide Champness (Sister)
Bowmans Buildings, Penfold Street, Marylebone
This estate was built in 1883 and acquired by the Peabody Trust in 1972. It currently comprises 50 general needs properties.
Those known to have lived here:-
1911 – 3 Bowmans Buildings – Samuel (Cab Driver), Rebecca, Charles & Amy Elizabeth Dane
Dibdin House, Maida Vale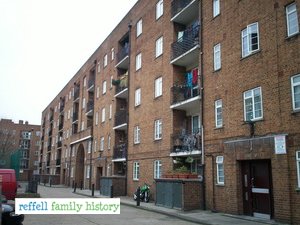 In the 1920s and 1930s Maida Vale was described as one of London's most desirable suburbs, with 'handsome piles of residential mansions' and superior detached houses. The ward retained a lower density than any other in Paddington except the two Lancaster Gate wards, having only 81 persons to an acre in 1921. Some large houses were subdivided, but since no fresh building land was available, the main change was the replacement of houses by flats. On the Edgware Road, an agreement of 1935 provided for the roadside villas and poor housing behind Andover Place to make way for 250 working class flats, which was opened on 15 October 1938 by the bishop of London as Dibdin House. The flats were the first on the estate to be in the direct control of the Ecclesiastical Commissioners, who acquired a long lease from the beneficial lessees. They still exist as private refurbished and desirable properties.
Those known to have lived here:-
1938-1960 – Amy Elizabeth, Amy Rebecca, Mary Louisa Ellen, George Alfred, Ellen Louise, Betty & John Robert Dane
Guinness' Trust Buildings, Page's Walk, Bermondsey
In the mid to late 1900s, housing for the poor was unsafe, cramped, and dirty. Population growth and the need for a better alternative became a public concern. Sir Edward Cecil Guinness (the great-grandson of Arthur Guinness – founder of the Guinness Brewery), formed the Guinness Building Trust to try to solve the problem of the lack of affordable housing. He also wanted to create affordable housing that was safe, clean and gave hard-working people a sense of dignity. The Trust eventually built eight estates with the largest in Bermondsey called Page's Walk and originally had 457 tenements. The Trustees took steps to ensure the buildings were visually pleasing as well as safe and clean. It also provided families with homes as well as a sense of community. Residents enjoyed the community spaces indoors and out to gather and play. They had access to books and hot water. Many male residents or husbands even offered jobs working for the Trust in building maintenance. In return, tenants had to follow a strict code of hygiene and moral principles.
Those known to have lived here:-
1911 – George, Georgiana, Frederick, Eleanor, Charles, Elsie, Alfred & Louise Ford