208 acres of arable land and 86 of meadow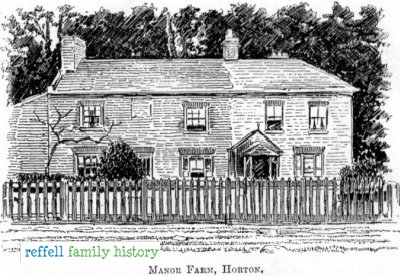 When Joseph Reffell died on 13 September 1848 aged 49, he was farming as a tenant at Manor Farm in Horton. In the 1851 census, Horton Manor Farm was held by his widow and is shown as being of 212 acres and employing 12 labourers. Elizabeth died of 'general decay' at Horton Manor Farm on 13 September 1862 aged 75. The eldest surviving son Raymond took over the farm until he died in 1882, when it then passed to his son, Joseph Reffell (1858-1936). Joseph married Emily Caroline Perkins (1866-1959) on 30 October 1890 at St. Mary Staines and they had three children; Frank Mortimer (1891-1978), Eileen Winifred (1893-1935) and Madge Noel (1894-1956). Both Joseph and Emily died at Hastings. He was buried at the church of St Michael Horton, she was cremated at Hastings Crematorium with the ashes buried with her husband.
The family rented the land and at that time were tenants to Colonel Owen Williams. They were well known locally and would have been affluent by the standards of the day. We have a good idea of how the farms developed and how they were operated, thanks to a newspaper report of a visit to the farms during January 1896. It was stated in this article that very few such extensive farms existed at that time so close to the metropolis.
The 1910 Lloyd George Domesday Survey shows that the owner then was JFW Taylor.
Today, most of the farm and the adjoining Horton Manor House are the location of the Kingsmead Quarry.
Occupiers:
1841 Joseph Reffell
1851 Elizabeth Reffell
1861 Elizabeth Reffell
1871 Raymond Reffell
1881 Raymond Reffell
1891 Joseph Reffell
1901 Joseph Reffell
1911 Joseph Reffell
1921 Joseph Reffell
1939 Thomas Rayner