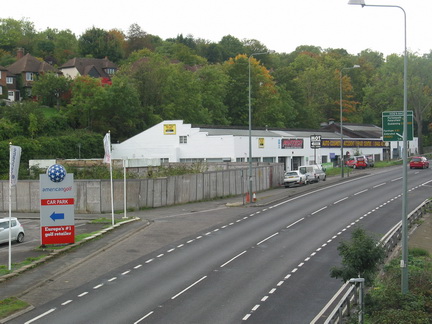 Reffell's service station opened in 1934 and was in a small service area built next to the southbound carriageway of the A3, by the crossroads serving Onslow which was built around the same time.
In 1937 it had a telephone number of Guildford 1995 which had become Guildford 41995 by 1946.
The famous motor racer Mike Hawthorn was killed in the vicinity of the service station on 22 January 1950. At that time the by-pass was a single carriage way with bollards down the centre of the road. Reports at that time locally called it the Coombs service station as it was being run by John Coombs, the racing driver.
Reffell's Service Station Limited was formally wound up at a meeting on 3 March 1966 when William Henry Hudson was appointed Liquidator. At that time Alan Herbert Reffell was chairman of the company.
By the 1980s, the A31 and A3 traffic levels had increased considerably and the garage was being run by BP. By modern standards the service area was small and had a dangerous entrance, and by 2007 it had closed.