Eastworth Road, Chertsey
The School of Handicrafts in Eastworth Road was built by Doctor Thomas Hawksley (1821-1892) in 1885. Dr Hawksley was a lecturer at Grosvenor Place School, was a consulting physician at the Infirmary for Consumption, Margaret Street, and had large practices in London and Brighton. He was not related to the mechanical engineer of the same name and time frame. He endowed the school at a total cost of £25,000 to help destitute boys learn trade skills and then go straight from school to employment. There were about 100 boys there in 1911.
The boys who attended were mainly from the London area, coming from poor families, many were orphans and were in some danger of drifting and becoming criminals. They were educated academically at Stepgates until they were eight years old, and then they were taught practical of trade skills until they were 13. Many areas were taught; including agriculture, gardening, carpentry, smithing, bricklaying, painting, cabinetmaking, plumbing and printing. They built their own workshop at the school and also made their own boots.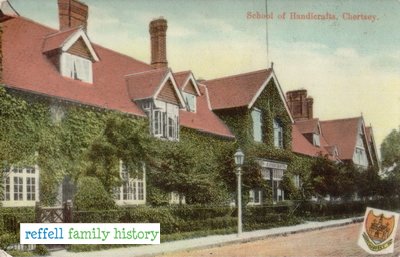 The School of Handicrafts was on Eastworth Road, a site that is now occupied by offices. The school flourished for 65 years but finally closed in 1952. It was then bought by the Catholic Church and re-opened it as St Thomas's Apostle School. It was replaced by St Ann's School in Free Prae Road and the site was sold for redevelopment as an office block in the 1990s.
One of these boys was Frank Leslie Reffell who was born in the Southborough area of Tunbridge Wells. He was at the school from 21 February 1903 to 11 July 1911. Frank was then sponsored by the Kent Colonising Association and sent to South Australia as an apprentice farm boy. His half brother John Alfred Gordon Reffell had also been at the school before him, who went on to join the military.