To the French this cemetery is known as Cimetiere de Bully les Mines. The Commonwealth War Graves Commission called it the Bully-Grenay Communal Cemetery British Extension. The railway from Hazebrouck to Arras ran between the villages of Bully les Mines and Grenay, and the station serving the two villages being called Bully-Grenay.
The French Military Extension (seen in the background of the photograph on the right) was made the first to be made, by French troops on the west side of the communal cemetery and covers the period from June 1915 until June 1916. The French extension contains 91 Commonwealth burials. The British Extension is on the south-west side of the communal cemetery, and was started at the end of April 1916. After the Armistice, many graves were brought in from isolated positions and the small burial grounds around the battlefields east of Grenay. Three others came from Grenay Churchyard, which had been damaged by shell fire and was then closed.
There are a total of 763 Commonwealth burials here, 591 from the United Kingdom and the remainder from Canada.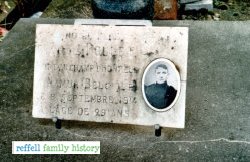 Commemorated here:
George Stanley Reffell, age: 26, burial date: April 1917