The site of the Spa Fields Chapel was originally a tea room called 'The Pantheon', and was converted into a Methodist chapel in 1779 by the Countess of Huntingdon. The large garden associated with the tea room was then turned over to the more profitable business of burying London's dead, and became immediately successful by undercutting the local parish church by some margin.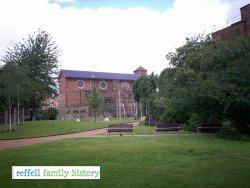 At around 42,000 square feet, it was originally estimated that it could hold about 1,316 bodies. By the time that it closed in 1849, it was burying more than that amount every year, and it is estimated that over 80,000 were laid to rest in its lifetime. However, laid to rest is somewhat of an exaggeration, as space was made for the new arrivals only by digging up the recently buried, who were burnt, put in lime pits or sold off to hospitals for surgeons to dissect. Fires were burning continuously night and day. Although one of the worst, it should be noted that Spa Fields was in a situation no different from most inner city cemeteries of London of that time. The situation eventually became so bad that the authorities had to take notice, resulting in the closure of these sites with the dead being taken to the new, bigger cemeteries on the outskirts such as the 'Magnificent Seven'.
The chapel was demolished and in October 1888 the Catholic Church Of Our Most Holy Redeemer (above) was opened on the spot. The burial grounds were bought by the London County Council in 1885 and it was reported that no a single headstone existed at that time. The area was subsequently converted into a playground for children by the Metropolitan Public Gardens Association (in the same way as Victoria Park Cemetery).
Those known to have been buried here:
Ann Reffell, age: 1, burial date: 3 July 1818 (from St Brides)
Henry Reffell, age: 62, burial date: 27 October 1822 (from St Giles In The Fields)
John George Reffell, age: 1y 1m, burial date: 3 February 1832 (from St Andrews, Clerkenwell)