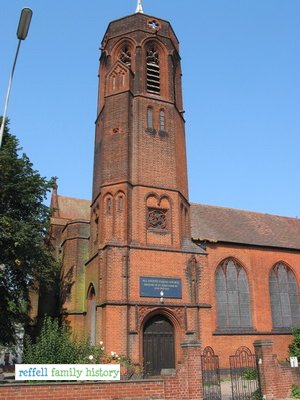 Suffolk doesn't have many 19th century churches – or, at least, not many that aren't rebuilds of medieval ones. All Saints is something quite unusual for Suffolk, not least because its red brick style is most un-East Anglian, a consequence of the architect being Samuel Wright of Lancashire, who won the 1883 competition. Perhaps he put in a speculatively high bid, and was surprised to get the job. Still, the octagonal tower is vaguely suggestive of Suffolk round ones, and in any case it would be dull if all churches were the same, especially 19th Century ones. The parish was carved out of St Matthew, closer into town.
All Saints sits on Chevallier Street, a bottleneck on the Ipswich ring road, and so many drivers every day get to have a really good look at this church. There is a successful mixture of styles, the Decorated details of the tower providing the star of the show, and the Perpendicular aisle windows with their great arches are also not unpleasing, although perhaps odd in that their 'wall of glass' 15th Century style is contradicted by the rather forbidding and severe red brick expanse and high roof. The great east (Dec-style) and west (Perp-style) windows are rather more successful.
When the church opened in 1884, a young clergyman from a small village in Kent was appointed as its first minister, a 'curate-in-charge'. His was Richard Munro Cautley, and his young son Henry would grow up to not only be diocesan architect, but the greatest historian of East Anglia's churches. He designed three Ipswich churches; St Augustine, All Hallows and St Andrew, as well as other Ipswich buildings including the Ipswich County Library, and the Walk shopping precinct which he designed with his partner Leslie Barefoot. The young Cautley learned the aesthetics and principles of High Anglican worship, and these infuse just about everything he ever built. He was only ever at home in the idiom of the late Middle Ages, and it is a tribute to the work of Samuel Wright of Lancashire that Cautley learned it first here.
Those known to have been married here:
Arthur Edward Reffell and Elizabeth Hannah Rattle, marriage date: 11 July 1922