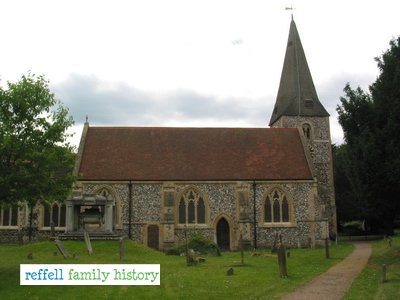 Cobham is an ancient settlement recorded in the Domesday Book and the present church dates from the middle of the 12th century. There were extensive restorations in Victorian times, but a large number of earlier features have been kept.
Originally a Chantry Chapel, the Cobham War Memorial Chapel was created in 1919. The block floor of Italian walnut is made of waste from the wood used for making rifle stocks. Outside the church and originally built as a Mortuary Chapel, is the Chapel of Peace.
Near the west doorway lies the oddly named Kerenhappuch Jelly, whilst in the north-east corner of the church is the tombstone of one David Archibald who it is stated died on '31st February 1880′.
The church is often open to visitors thanks to a rota of friendly volunteers, although the keys can be found at the nearby Church House if found to be locked. The church has eight bells which are often used. It is sometimes alleged that the church is supposed to be haunted by a strange apparition of a blue donkey.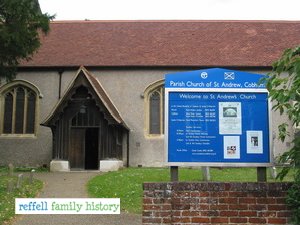 Those known to have been baptised here:
Mary Reffell, baptism date: 15 March 1736
John Reffell, baptism date: 16 February 1739
William Reffell, baptism date: 19 August 1739
Marmaduke Reffell, baptism date: 17 July 1743
Marmaduke Reffell, baptism date: 1 December 1744
James Reffell, baptism date: 25 January 1745
Mary Reffell, baptism date: 11 January 1795
John Reffell, baptism date: 9 October 1796
James Reffell, baptism date: 26 October 1800
Richard Reffell, baptism date: 30 March 1802
Frances Reffell, baptism date: 23 October 1803
Those known to have been buried here:
Marmaduke Reffell, burial date: 27 August 1743, infant
Richard Reffell, burial date: 24 August 1802, infant
Frances Reffell, burial date: 21 December 1804, age: 1
William Reffell, burial date: 19 September 1767, age: 28