(St Edmondsbury Cathedral)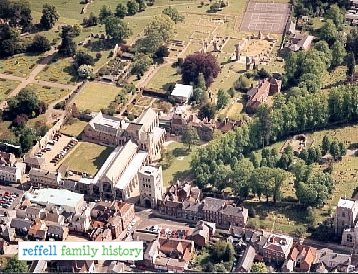 The death of Edmund, King of the East Angles, by the Danes in 869 led to the building of a Norman abbey to house the remains of the martyred monarch, who was soon regarded as a saint.
Since 1148, pilgrims have visited this shrine of St Edmund in the abbey at Bury St Edmunds. Especially for these pilgrims needs, a number of churches were once built within the precincts of the abbey, including one which was by Abbot Anselm in the twelfth century that he dedicated it to St James. Little now remains of the Benedictine Abbey following the Dissolution in 1539, but the church of St.James has gone from strength to strength.
However, it only became the cathedral church of Suffolk in the newly created Diocese of St Edmundsbury in 1914. It was, and still is, the parish church of Bury St Edmunds. The main tower was only completed in 2005. Further additions are the Chapel of the Transfiguration and the East Cloister, both completed in 2009 and the Crypt Treasury in 2012.
Those known to have been baptised here:
Samuel Reffell, baptism date: 17 October 1802
Anne Maria Reffell, baptism date: 1 August 1828
John Rushbrook Reffell, baptism date: 9 November 1829
Elizabeth Reffell, baptism date: 14 November 1831
Samuel Reffell, baptism date: 14 July 1833
Frederic Reffell, baptism date: 5 May 1835
Sarah Reffell, baptism date: 28 September 1836
Frederick Reffell, baptism date: 11 July 1838
Those known to have been married here:
Robert Clover and Elizabeth Reffell, marriage date: 16 July 1820
Frederick Norman and Elizabeth Reffell, marriage date: 16 October 1856
Sarah Ann Reffell and William Nickerson, marriage date: 15 September 1863
Those known to have been buried here:
Anne Maria Reffell, age: 1, burial date: 12 November 1829
Frederic Reffell, age: 7 days, burial date: 12 May 1835
Sarah Reffell, age: 11 months, burial date: 15 April 1837
William Reffell, age: 3 months, burial date: 27 June 1840
Margaret Reffell, age: 74, burial date: 31 March 1843
John Rushbrook Reffell, age: 10, burial date: 7 May 1848
Samuel Reffell, age: 55, burial date: 22 November 1855