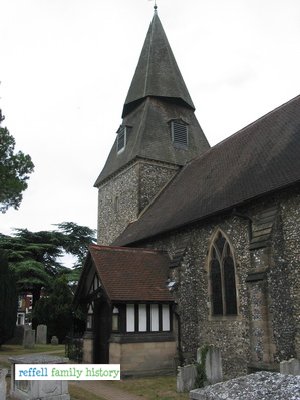 The parish church of St Mary the Virgin has been a continuous place of Christian worship for over eight hundred years, and probably succeeded an earlier Saxon church on the same site. This earlier church was mentioned in the Domesday Survey in 1086 as a 'church in Bixle' where it is said that St Paulinus came to preach.
The parish at one time included four of the present neighbouring parishes. Today the congregation on Sundays is about one hundred at any one time, in an ecclesiastical parish of about five thousand people. This one time farming community is now completely surrounded by suburban south-east London.
The centre of Bexley still has village characteristics of which the residents are proud. The church sits on a relatively large site which is park-like in character. There are a variety of 17th to 19th century memorials contained both inside the church and in the churchyard.
There is also an adjacent cemetery which is now maintained by Bexley Council as a conservation area, and this area is where the burials below have taken place.
Those known to have been buried here:
Henry Reffell, burial date: August 1886, age: 69
Mary Ann Reffell, burial date: January 1890, age: 63
Reginald Eustace Arthur Reffell, burial date : 18 March 1902, age: 13
Percy Hugh Waistell, burial date: April 1944, age: 59
Hilda Florence Waistell, burial date: 20 January 1968, age: 90