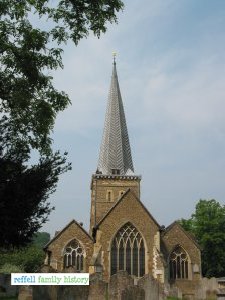 The name of Godalming in Surrey is said by some to have originated from a founding father called Godhelm. Whether this is speculation or has some factual content, the name appears to be unique in the world. Noted in the past for being one of the first Surrey villages to be lit by electricity, the railway arrived in 1845 and today it is very much a commuter town for London.
Godalming probably had an early church on the same position as the present one. In St Peter & St Paul can be seen the oldest dateable man-made objects in Godalming, namely carved Anglo-Saxon stones of between 820-840. A second Church, parts of which still survive in the present fabric, dates from the late 10th or early 11th century. In the thirteenth century, the cruciform church of the Normans was converted into a rectangle by the construction of the north and south chapels and nave aisles. The original crown post roof over the chancel was built before 1400. The most important feature of this period was the construction of the oak-timbered spire, which was originally clad with 10 tons of lead. Two restorations of the church occurred during the 19th century, in 1840 and again in 1879. The former extended the nave westwards to the road, whereas the latter has left the church substantially as it is today.
The churchyard was closed to burials in 1855, with burials now taking place at the Nightingale Cemetery.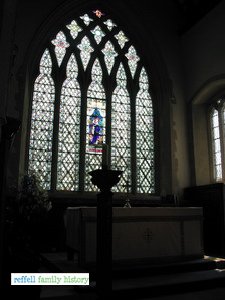 Those known to have been baptised here:
Robert Reffull, baptism date: 30 October 1641
John Reffull, baptism date: 10 October 1642
Robert Reffull, baptism date: 14 April 1644
Abraham Reffull, baptism date: 10 January1646
Sarah Reffull, baptism date: 29 June 1651
William Reffull, baptism date: 17 October 1653
Elizabeth Reffull, baptism date: 3 November 1655
William Reffull, baptism date: 26 November 1674
John Reffull, baptism date: 10 March 1677
Nathaniel Reffull, baptism date: 5 May 1678
Elizabeth Reffull, baptism date: 14 December 1680
William Reffull, baptism date: 28 January 1682
Elizabeth Burchatt, baptism date: 3 October 1800
John Burchatt, baptism date: 26 March 1802
Mary Ann Burchatt, baptism date: 29 November 1803
Rebecca Burchatt, baptism date: 25 November 1807
Marie Twycross Burchatt, baptism date: 17 April 1814
Charles Burchatt, baptism date: 3 April 1816
Matilda Burchatt, baptism date: 21 October 1818
Edward Twycross Burchatt, baptism date: 29 January 1820
Daniel Charles Wyeth, baptism date: 15 December 1840
George Wyeth, baptism date: 3 August 1843
William Wyeth, baptism date: 29 December 1848
Matilda Wyeth, baptism date: 27 January 1847
Edward Burchatt, baptism date: September 1847
Elizabeth Burchatt, baptism date: September 1847 (age 3y 4m)
Mary Ann Burchatt, baptism date: September 1847 (age 5y)
Thomas Roberts Wyeth, baptism date: 30 September 1849
George Edward Wyeth, baptism date: 3 February 1867
Those known to have been married here:
Robert Reffull and Sarah Wingham, marriage date: 22 April 1646
William Burchett and Ann Bowyer, marriage date: 28 August 1654
William Reffull and Dorothy Sturte, marriage date: 18 February 1676
Sarah Reffull and Robert Piper, marriage date: 14 October 1678
Thomas Burchatt and Ann Twycross, marriage date: 6 November 1799
Thomas Burchatt and Harriet Soal, marriage date: 9 March 1834
Those known to have been buried here:
John Reffull, burial date: 12 October 1642
Abraham Reffull, burial date: 19 May 1660
Nathaniel Reffull, burial date: 23 April 1661
Dorothy Reffull, burial date: 1 May 1685
Mary Burchatt, burial date: 15 March 1711
Richard Burchatt, burial date: 20 September 1714
Thomas Burchatt, age: 44, burial date: 26 April 1821
Maria Burchatt, age: 21, burial date: 28 June 1835
Mary Twycross, age: 81 burial date: 27 October 1836
Catherine Twycross, age: 48, burial date: 27 December 1838
Ann Burchatt, age: 63, burial date: 28 March 1840
John Twycross, age: 93, burial date: 14 August 1840
Daniel Charles Wyeth, age: 2w, burial date: 5 January 1841
John Twycross, age: 27, burial date: 29 April 1847
William Wyeth, age 4, burial date: 19 December 1848
Thomas Roberts Wyeth, age 4m, burial date: 16 February 1850