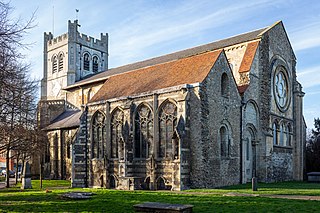 The Abbey Church of Waltham Holy Cross and St Lawrence is the parish church of the town of Waltham Abbey. It has been a place of worship since the 7th century, although the present building dates mainly from the early 12th century and is an example of Norman architecture. There have been five churches on the site; 7th century, 8th century, Harold's church, the Norman church and the Augustinian Abbey church. It is still the parish church.
Being the last abbey in England to be dissolved, on 23 March 1540 Abbot Robert Fuller surrendered the abbey and its estates to Henry's commissioners.
It is said that King Harold Godwinson, who died at the Battle of Hastings in 1066, is buried in the churchyard. There was alleged to be a stone slab bearing the inscription "Hic iacet Haroldus infelix" (Here lies Harold the unfortunate), although it was destroyed when that part of the abbey was demolished at the Dissolution.
Those known to have been buried here:
Sarah Reffell, burial date: 7 January 1841, age: 57
John Reffell, burial date: 20 November 1853, age: 65