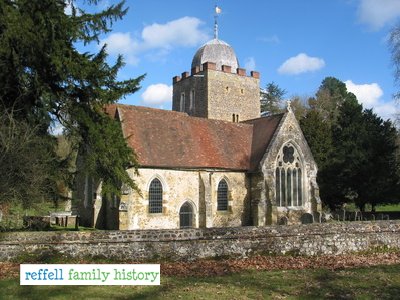 The original church of St Peter and St Paul in Albury dates from Saxon times. Further additions were made throughout the centuries, including the rather odd-looking 18th century shingled cupola over the tower. After the Albury Estate came into the hands of William Finch in 1782, he began to enclose the village green, annexed parts of the churchyard, and generally embarked on a policy of harassment of the local villagers. The was carried on by a later owner and by the time that Henry Drummond acquired the estate in 1819, there was little left of the village apart from the inn and the church which was in a poor state of repair. The villagers had moved about a mile away to Weston Street, which then took over the name of Albury.
In 1839 Drummond was granted permission by the Bishop of Winchester to build a new church there, also called St Peter and St Paul, and the old church was closed in 1841. The south chapel was remodelled by the Victorian architect Augustus Welby Pugin as a mortuary chapel for the Drummond family. Many of the family including Henry Drummond are now buried in the vault there, and the walls and floors are covered with their armorial bearings.
Although still consecrated, the old church stood forlorn for many years until in 1974 it became invested into the care of The Churches Conservation Trust for preservation in the interests of the nation. Considerable restoration work has been carried out, including a rebuilding of the notable cupola. The church is approached by a private road which also leads to Albury Park House which has been converted into apartments.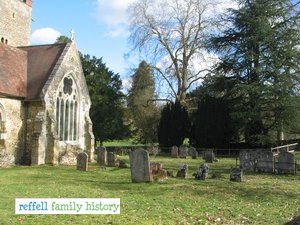 Those known to have been baptised here:
William Reffell, baptism date: 15 December 1782
Mary Reffell, baptism date: 9 July 1786
Joseph Reffell, baptism date: 5 June 1789
John Reffell, baptism date: 4 November 1792
Henry Reffell, baptism date: 22 May 1796
Richard Reffell, baptism date: 30 May 1799
Harriett Ansell, baptism date: 13 February 1814
Charles Reffell, baptism date: 21 December 1825
Rosina Miles, baptism date: 20 February 1835
Those known to have been married here:
Charles Burchatt and Harriet Ansell, marriage date: 9 November 1840
Those known to have been buried here:
Joseph Reffell, burial date: 5 August 1789, infant
William Reffell, burial date: 7 January 1816, age: 33
William Reffell, burial date: 30 January 1825, age: 72
Charles Reffell, burial date: 1 January 1826, age: 1 month