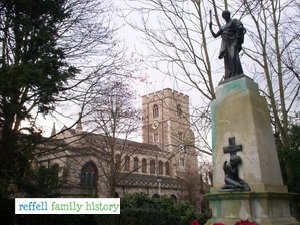 Putney Bridge is unique in that it is the only bridge in Britain to have a church at both ends: the ancient St Mary Putney on the south bank and All Saints Fulham on the north.
A church has stood on the north side of the river Thames here since at least Norman times, and the first vicar is recorded in 1242. This building was replaced some time before 1434 and the only surviving feature from this time is the 1440 tower.
The church was restored and enlarged in 1840, but replaced again in 1880. The main cause of decay of the old church was the proximity of the river, there was no embankment at that time and the floor level was about a metre lower than present, meaning that the church often flooded.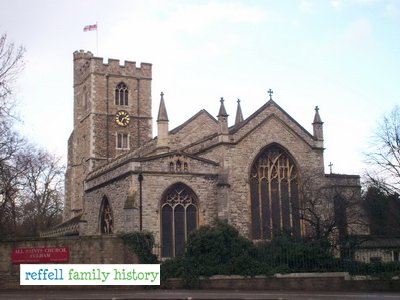 Due to closeness of Fulham Palace, no fewer than eleven Bishops of London are buried in the church or churchyard.
Those known to have been married here:
Henry Frederick Stocker Mignot and Jane Emma Reffell, marriage date: 27 August 1865
Those known to have been buried here:
Joseph Reffell, death date: 12 March 1862
Elizabeth Reffell, death date: 2 April 1864