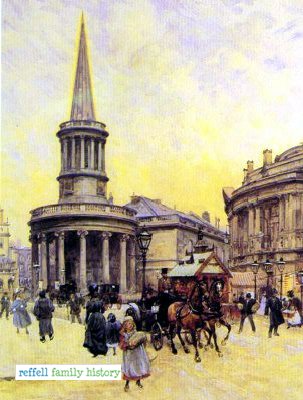 All Souls was one of four new 'Waterloo' churches planned for the parish of St Marylebone by the favourite architect of King George IV, John Nash (see picture on the right below) who designed it as a centre piece of an extension to the new Regent Street. All Souls is the only Nash church in London, the building was much ridiculed at the time for its mixture of styles and the slenderness of its spire. The Bishop of London consecrated the church on 25 November 1824, which cost £18,323 10s 5d to build. It is built of Bath stone and the spire consists of 17 concave sections.
The name of the road derives from Sir James Langham, who bought land here, originally so that Nash would built a house for him here. However, they fell out and another architect finished it in such a way as to thwart Nash's ambition to have a grand procession way from the Prince Regent's residence at Carlton House to his summer villa, which was to have been built in the Park. Incidentally, this is why there is to this day a kink in the road here.
At first, services were held on Sunday mornings only, however evening services were introduced in 1827, but a regular weekday service did not begin until 1896. During the Second World War it was severely damaged and was not reopened until 1951. A major reconstruction took place during 1975/6, and included the provision of a new hall under the existing structure. The church is directly opposite the headquarters of the British Broadcasting Corporation at Broadcasting House and is regularly used for the broadcasting of church services.
There are no burial facilities at All Souls Langham Place.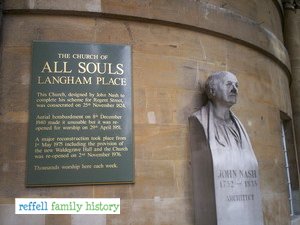 Those known to have been baptised here:
Elizabeth Rebecca Reffell, baptism date: 3 May 1836
Henry Reffell, baptism date: 31 December 1837
George Reffell, baptism date: 15 May 1842
John William Reffell, baptism date: 2 February1845
Susan Matilda Reffell, baptism date: 31 January 1847
Charles Joseph Reffell, baptism date: 21 January 1849
Edward Reffell, baptism date: 13 January 1852
Ovid Reffell, baptism date: 1 October 1854
Alice Augusta Jane Reffell, baptism date: 21June1913