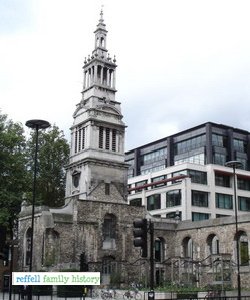 The first church on this site was constructed between 1306 and 1327 as the church of a Franciscan monastery whose practice of wearing gray habits accounts for the word 'Greyfriars' in the name. It was a gothic style church and was the second largest in medieval London.
Following the Dissolution of the Monasteries the church was given to the City of London. Many of the monastery buildings were later used by Christ's Hospital, for whose students the church became the principal place of worship. The hospital was moved out to Horsham in Sussex during 1902.
This original church was, like so many others, destroyed in the Great Fire of 1666. The replacement Wren church was severely damaged in the Blitz on 29 December 1940 during an air raid. It is said that the only fitting to have been saved was the cover of the wooden font, which was recovered by an unknown postman. The roof and vaulting collapsed into the nave, but the tower and four main walls remained standing but smoke scarred and weakened. It was decided not to rebuild Christ Church due to the war damage, but also to the lack of congregation. In 1954, its parish was merged with that of the nearby St Sepulchre without Newgate. The spire was disassembled in 1960 and rebuilt safely.
Those known to have been married here:
George Topham and Ann Painter, marriage date: 1832