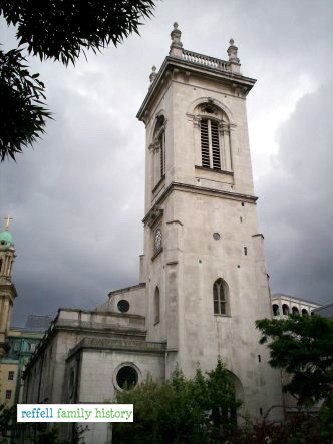 The church of St Andrew first appears in written records in AD 951 as a church on top of the hill above the river Fleet. However when the crypt was excavated in 2002 Roman pottery was discovered, which would point to the site being in use for a much longer period.
The church was almost destroyed during the great fire of 1666, until a fortunate change of wind saved it. However, it had degenerated into such a state that it was decided to rebuild the church after the fire, with the famous Christopher Wren being chosen as architect. It was the largest of Wren's churches and the parish was at that time the largest in London, with five new parishes eventually being created from it.
As part of the Holborn Valley improvements of the 1860s, many of the bodies that had been buried here were moved to allow the building of the adjacent Holborn Viaduct. Some were reinterred in the crypt of the church, whilst others were taken to the City Cemetery in Ilford.
On the night of 16 April 1941, the whole church was bombed and gutted such that all that remained of the original building was the exterior walls and tower. After twenty years of restoration, the church was reopened to become a 'Guild' church (i.e. without an attached parish) and the remaining bodies have since been moved from the crypt to Ilford.
Those known to have been baptised here:
George Reffell, baptism date: 2 January 1831
James John Reffell, baptism date: 13 October 1867
Frederick Henry Reffell, baptism date: 13 October 1867
Mary Eliza Reffell, baptism date: 1 June 1874
Those known to have been married here:
James Reffell and Mary Ann Langham, marriage date: 25 February 1866
Those known to have been buried here:
James Reffell, age: 1, burial date: 7 November 1828
George Reffell, age: 1y 1m, burial date: February 1832
Joseph Reffell, age: 50, burial date: 13 March 1840
James John Reffell, age: 40, burial date: 1 November 1851
Frederick Reffell, age: 2, burial date: 9 August 1852