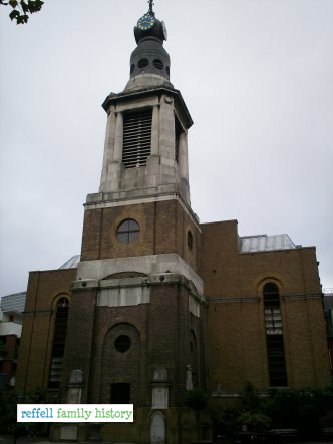 Dedicated to Saint Anne, this church was built between 1677 and 1685, possibly by Sir Christopher Wren and/or William Talman. It was consecrated in 1686.
Following the closure of the graveyard to new burials in 1855, it was subsequently turned into a public garden in 1892 with the entrance in Wardour Street, a peaceful task that it still has today amongst the noise and bustle of Soho.
On the evening of 24 September 1940, the Church building received a direct hit from a bomb during the height of the London blitz. Although the 1803 tower survived, the entire body of the Church was burnt out.
As a replacement, a much small church was conceived and after a long struggle involving the St Anne's Parochial Church Council, the Diocese, The Soho Society and the Soho Housing Association, the foundation stone was eventually laid by the Princess Royal on 12 March 1990. The new St Anne's church was re-dedicated and opened for use on St Anne's Day, 26 July 1991.
The parish registers are held in the City of Westminster Archives.
Those known to have been baptised here:
Henry Felix Ferrari, baptism date: 16 March 1922
Those known to have been married here:
Jane Reffell and William Bird, marriage date: 1 September 1768
William Reffell and Elizabeth Parry, marriage date: 21 March 1820
Matilda Burchatt and James Houghton, marriage date: 10 March 1838