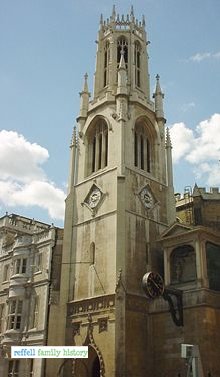 The original St Dunstan-in-the-West stood on the same site as today's church and was built between 988 and 1070. The Church narrowly escaped the Great Fire of London in 1666, only the quick thinking of the Dean of Westminster saved it.
St Dunstan-in-the-West was rebuilt in 1831. The architect was John Shaw (1776–1832), and it was left to his son of the same name (1803–1870) to complete the task.
The tower was badly damaged by German bombers in 1944 and it was rebuilt in 1950 through the generosity of newspaper magnate Viscount Camrose. In 1952 St Dunstan-in-the-West became a Guild Church, dedicating its ministry to the daytime working population around Fleet Street.
St Dunstan-in-the-West was a well-known landmark in previous centuries because of its magnificent clock. This dates from 1671 and was the first public clock in London to have a minute hand. The figures of the two giants strike the hours and quarters, and turn their heads. They perhaps represent Gog and Magog, the whole clock is now mounted in a separate pavilion. On the rebuilding by the Shaws it was exiled to a mansion in Regent's Park, which became the St Dunstan's College for the Blind. It was returned by Lord Rothermere the press baron, in 1935 to ostensibly mark the Jubilee of King George V.
St Dunstan is the only church in England to share its building with the Romanian Orthodox community.
Those known to have been baptised here:
Mary Nichols, baptismal date: 22 January 1796
Those known to have been married here:
John Reffell Munns and Sophia Wright, marriage date: 7 August 1834