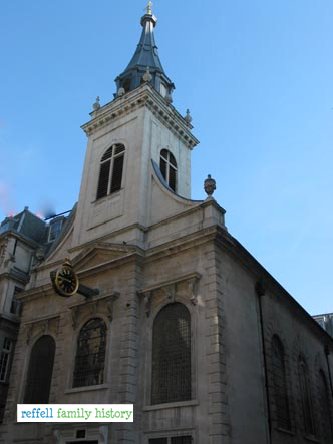 St Edmund the King (to use its more common name) is the last remaining church in Lombard Street. Until the 1980s most UK based banks had their head offices here and historically it has been the London home for money lenders, being named after the Lombardy (Italian) merchants who settled in the area during the 12th Century. From 1691 until 1984 Lloyd's Coffeehouse, which eventually became Lloyd's of London, was based nearby.
It is dedicated to the young King of East Anglia who was martyred by the Danish in 870. The Abbey of St Edmunds is built on his burial place. It was first described in the 12th century as St Edmund Grasschurch, after the hay market that gave its name to Grasschurch Street.
The original medieval church was destroyed in the Great Fire. It was rebuilt by Christopher Wren between 1670 and 1674, with a tower designed like a lighthouse ornamented at the angles by flaming urns in allusion to the Great Fire. The projecting clock was built around 1810.
Unusually there was some damage during both World Wars. The church has been deconsecrated and from 2006 it has been the London Centre for Spirituality with an associated bookshop.
Those known to have been married here:
John Reffell and Mary North, marriage date: 31 June 1831
Those known to have been buried here:
John Reffell, age: 76, burial date: 31 January 1840