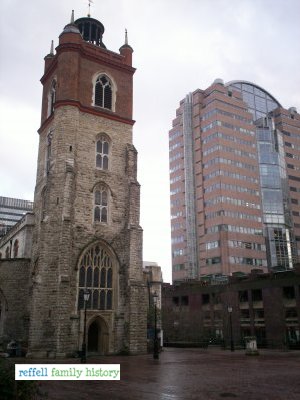 St Giles Cripplegate is one of the few remaining medieval churches in the City and is in the centre of the Barbican development, built between 1965 and 1976. On the site there was an early Saxon church, and by 1090 a Norman church stood here. Sometime during the Middle Ages the church was dedicated to Saint Giles, who is the patron saint of beggars and cripples.
Although being missed by the Great Fire of 1666, the church has been subject to three major fires; the first one occurred in 1545, in 1897 and again during the Second World War. There was a direct hit in the summer of 1940 and again in the December of the same year the church was showered with so many incendiary bombs that even the cement caught alight. All that remained was the shell, the arcade in the chancel, the outside walls and the tower.
The church has been fully restored and stands proudly amongst the modern buildings of the Barbican Estate.
It should be noted that the phrase 'without Cripplegate' means outside the gate of that name in the London wall. 'Cripplegate' itself actually has nothing to do with cripples, but comes from the Anglo-Saxon word 'cruplegate' meaning a covered way or tunnel. This ran from the gate of Cripplegate to the Barbican, a fortified watchtower on the London wall.
Those known to have been baptised here:
Sarah Reffell Terry, baptism date: 28 October 1825
Stanley Charles Shapland, baptism date: 1876
Ronald Reffelle Shapland, baptism date: August 1905
Those known to have been married here:
George Leshley and Alice Ambrosia Anscombe, marriage date: 1866