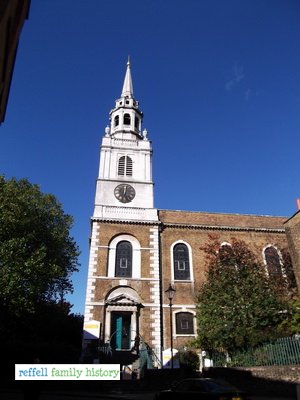 The parish of St James, Clerkenwell, has had a long and sometimes lively history. The springs which give Clerkenwell its name are mentioned during the reign of Henry II. The parish clerks of London used to perform their mystery plays, plays based on Biblical themes, in the neighbourhood, sometimes in the presence of royalty. In approximately 1100 a Norman baron named Jordan Briset founded an Augustine nunnery dedicated to St Mary, which became wealthy and influential.
By 1788 the old church of 1540, a medley of seventeenth and eighteenth century sections in various styles grafted onto the remains of the medieval nunnery church, presented an appearance of picturesque and dilapidated muddle. In that year an act of parliament was passed for the rebuilding of the church, the money to be provided by the sale of annuities. The architect was a local man, James Carr, and he produced a building which is pre-eminently a preaching-house but with carefully planned and harmonious detail clearly influenced by Wren and Gibbs. The new church was dedicated by Bishop Beilby Porteus in 1792. The upper galleries were added in 1822 for the children of the Sunday-School, founded in 1807 and still flourishing; the back parts of the upper galleries were for the use of the poor. The tower and spire were restored in 1849 by W. P. Griffith, and Sir Arthur Blomfield restored the church and rearranged the ground floor in 1882.
The crypt was used for burials, but early in the twentieth century 300 coffins were moved and stored under the main West entrance. The crypt was then excavated and equipped to form a large hall. The new hall was opened by the Princess Marie Louise of Schleswig-Holstein in 1912. During the 20th century, the parish of St John, which had been carved out of St James's in 1721, was reunited with it, as was the parish of St Peter.
Those known to have been baptised here:
Henry William Headland, baptism date: 14 December 1858
George Cooper Headland, baptism date: 14 December 1858
James Young Headland, baptism date: 4 November 1860