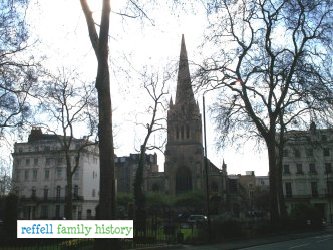 The history of churches in the Paddington area is complex, due to the massive development in the area during the 19th century. At its peak in 1890 there were twenty three ecclesiastical parishes.
In 1845, the new church of had become the parish church of Paddington, built at southern end of Westbourne Terrace. To retain the standing required by the main parish church, it was decided to completely rebuild it. The rebuild was complex and entailed the reconstruction on the existing site whilst still retaining its function for worship. Despite this, incredibly it was rebuilt in under a year in 1882.
Amongst the most famous being married here was that of Oscar Fingal O'Flahertie Wills Wilde and Constance Mary Lloyd on 29 June 1884.
Unfortunately there was considerable damage to the structure during the Second World War, including a loss of about 60 feet from the top of the spire. The church was restored, but by the 1970s the area had seen considerable exodus of its church population and subsequently the churches of Christ Church Lancaster gate and Holy Trinity Bishops Bridge Road were closed and the parish of St James was expanded to into these areas.
Those known to have been married here:
Edward Quinlan and Mary Reffell, marriage date: 27 February 1853
John William Reffell and Mary Ann Jones, marriage date: 12 October 1890