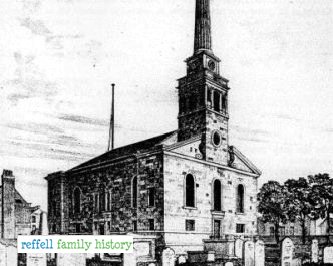 The parish of St John Horsleydown was constituted around 1670 and covered a physically small area of Bermondsey, bordered by the River Thames up to where Tower Bridge was to be built in 1894. By the mid 1850s the local population had expanded to over 11,000, but has since contracted again.
The land for the church was bought from St Olave's school in 1718, but it was some while before the church was built as part of the Commission for Building Fifty New Churches, between 1727 & 1733, another one was St George Hanover Square.
The church of St Olave (now Hayes Wharf on the river) had become derelict and the last burial took place there during 1853 and the last baptism was in 1918. The parish of St Olave was then combined with that of St John Horsleydown.
The church of St John Horsleydown was badly damaged by bombing on 20 September 1940 and the last marriage took place here during 1956, the parish then being combined with that of St Mary Magdalen. The graveyard has been grassed over, with apparently all the headstones destroyed or missing. The base of the old church can however still clearly be seen today, being incorporated into the foundations of Nasmith House, opened in 1975 as the headquarters of the London City Mission.
Those known to have been baptised here:
James John Reffell, baptism date: 14 April 1811
Isabella Elizabeth Reffell, baptism date: 16 April 1823