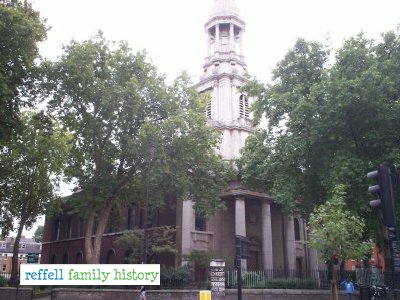 '"When I grow rich", say the bells of Shoreditch'.
The present day church as we see it dates from the rebuild of the Saxon church in 1740, although there has been a church here since the 12th century. The graveyard has many burials from the previous church and includes such notables such as James Burbage, the founder of England's first playhouse The Theatre in 1576. He died in 1619 and his gravestone carries the simple legend 'Exit Burbage'.
The design of the rebuilt church is described as 'Palladian' in style and is similar to St Giles In The Field. During its reconstruction, the Church became the site of the first strike in the building trade. This came about because local builders refused to work for the low wages that were being offered, so Irish workers were brought in from outside the parish. This led to anti-Irish riots, and the militia had to be called out to disperse the mob.
Traditionally a very poor area as suggested in the rhyme 'Oranges and Lemons', nowadays Shoreditch is enjoying somewhat of a revival and has recently received a new rail connection to the area as part of Transport for London's East London line upgrade.
Those known to have been baptised here:
Mary Ann Reffell, baptism date: 20 April 1796
Thomas Richard Reffell, baptism date: 1 April 1798
Sarah Reffell, baptism date: 7 October 1802
Julia Topham, baptism date: 24 May 1807
George Topham, baptism date: 24 May 1812
Joseph Reffell, baptism date: 17 August 1828
Those known to have been married here:
Henry Reffell and Ann Lane, marriage date: 22 March 1788
Mary Ann Reffell and James Partridge, marriage date: 6 November 1820
Ann Reffell and William Hodges, marriage date: 28 August 1849
Those known to have been buried here:
Mary Reffell, age: 74, burial date: 1831