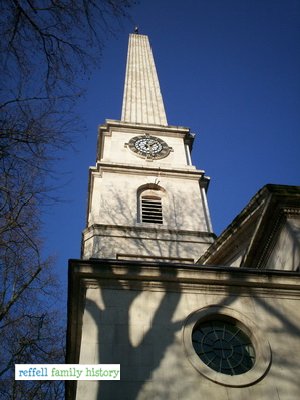 The church of St Luke on Old Street was built to relieve the pressure of an burgeoning 18th century population for the church of St Giles without Cripplegate by the Commission for Building Fifty New Churches. It was completed in 1733 and the corresponding parish of was created from part of the existing one. The church was designed by John James, with the obelisk spire and base by Nicholas Hawksmoor. On top of the church there was a brass weather vane and because of the shape, people in the area thought it was a louse, and hence the church was known locally as 'Lousy St Luke's'.
Repairs were already being undertaken in 1734 and it required considerable maintenance over time including underpinning in 1877, 1914 and 1951. However there was a major subsidence after the dry summer of 1959, leaving some columns hanging from the roof that they should have been supporting. The building was thus declared unsafe. The parish was reunited with St Giles in 1959 and the church was closed by the Diocese of London in 1964. Despite being a Grade I listed building, it lay empty and was a ruin for 40 years.
After several proposals, including some to redevelop the church as offices, it was converted for the London Symphony Orchestra at a cost of £18m as a concert hall, rehearsal, recording space and educational resource. During 2000 The Oxford Archaeological Unit undertook research work comprising the recording of the architecture and crypt structure along with exhumation of all burials in the northern and southern churchyards as well as clearance of all the burials in the crypt. A total of 1052 burials were recorded and removed. Of these 336 individuals were named and documentary research was carried out on these individuals.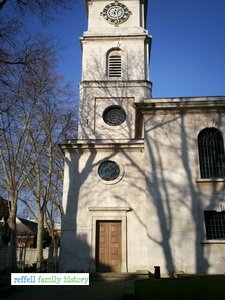 Those known to have been baptised here:
Sarah Parry, baptism date: 5 July 1769
Elizabeth Sophia Parry, baptism date: 2 November 1770
Jabez Parry, baptism date: 22 March 1772
Sarah Rebecca Parry, baptism date: 11 January 1778
Harriet Topham, baptism date: 8 December 1833
Jane Maria Topham, baptism date: 28 June 1835
George Ovid Topham, baptism date: 4 March 1838
Mary Field, baptism date: 1849
Eliza Field, baptism date: 1851
John Henry Reffell, baptism date: 1876
James Waghorn Reffell, baptism date: 1877
Those known to have been married here:
Giles Henry Jones and Hannah Claridge Turner, marriage date: 10 February 1867
Those known to have been buried here:
John Parry, age: child, burial date: 7 August 1772
Sarah Parry, age: child, burial date: 7 August 1772
James Partridge, age: 50, burial date: 4 November 1849