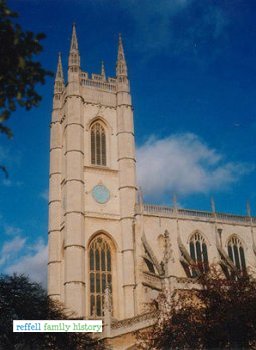 The church of St Luke Chelsea was consecrated by the Bishop of London on St Luke's Day (October 18th) in 1824 and was built because the original Parish Church (which is now known as Chelsea Old Church) was became too small for the increasing population of the area at that time. The tower is 43m (142ft) high, and is one of the great landmarks of Chelsea. The nave at 20m (60ft), is the tallest of any parish church in London.
The large burial ground which surrounded the church was converted into a public garden in 1881, and the gravestones were placed to form a boundary wall.
Charles Dickens was married in in St Luke to Catherine Hogarth in 1836, with the wedding taking place only two days after the publication of the first part of his 'Pickwick Papers'.
A number of important musicians have been appointed as organist to the church, including John Ireland in 1904. There has been a choir since the early days, nowadays it is entirely voluntary – the only one in central London.
Those known to have been baptised here:
Harriett Smith, baptism date: 6 May 1836
George Edward Reffell, baptism date: 27 August 1893