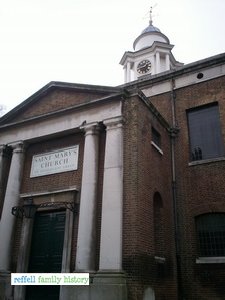 Paddington Green originally consisted of wasteland occupying a central position on the estate which supported the almoner of Westminster. The name came to be applied both to the surrounding village and to a small part of the open space, east of the 18th century church. When the green was first recorded in 1549 it spread southward across Harrow Road near its junction with Edgware Road. It is resumed that a medieval chapel stood near the middle of the north side of the waste. During the Middle Ages there was a church on Paddington Green that was a chapel in the parish of St Margaret's Westminster. Later there was a 17th century church, which was farther north than its successor. The rebuilding of the church between 1788 and 1791 placed it near the middle of the green, which it then divided, with the northern section eventually being taken for burials.
The history of churches in the Paddington area is complex, due to the massive development in the area during the 19th century. At its peak in 1890 there were twenty three ecclesiastical parishes. In 1845, the new church of St James had become the parish church of Paddington, built at southern end of Westbourne Terrace and then the church on Paddington Green was reduced to the status of a chapel of ease.
In 1885 St Mary on Paddington Green once again became a parish church, as the old parish of Paddington was further divided into smaller ecclesiastical parishes.
There is a very large hospital to the south of the green called St Mary's, where the laboratory where Alexander Fleming discovered penicillin has been restored to its cramped condition of 1928 and incorporated into a museum about the discovery and his life & work.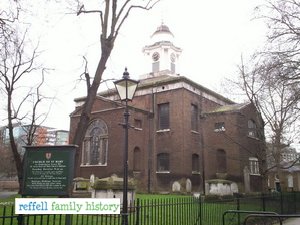 Those known to have been baptised here:
Mary Ann Reffell, baptism date: 15 December 1854
Edward Thomas Dane, baptism date: 9 March 1902
Amy Amelia Crossby, baptism date: 18 September 1904
Those known to have been married here:
Charles Dane and Elizabeth Mills, marriage date: 20 July 1902
George Crossby and Amelia Dane, marriage date: 12 June 1904
Those known to have been buried here:
Joseph Reffell, age: 22, burial date: 27 October 1850
Sarah Champness, age 57, burial date: 7 December 1850
Joanna Reffell, age: 56, burial date: 14 November 1852
Jabez Parry, age: 82, burial date: 21 June 1854