Southwark Cathedral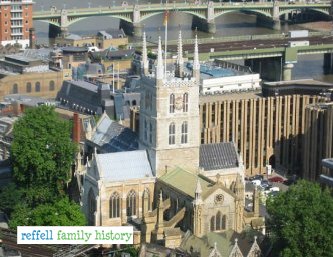 There is a church listed on this site in the Domesday Book, and a new Norman church was built in 1106 and named St Mary Overie (meaning 'over the river', as most of London at that time was centred on the north bank of the River Thames). This church was almost completely destroyed during 1212 and there have been a number of church buildings on this site.
The present day church dates from the 1400s and is the oldest surviving Gothic building in London. Over the years it has been renovated many times and partly rebuilt during 1890 when a new nave was installed.
In 1424, James I of Scotland married Mary Beaufort here, but during the 1539 Dissolution of the Monasteries, King Henry VIII closed the priory and changed the main building into a parish church called St. Saviour, Southwark.
The church only became a cathedral in 1905, when it became the seat of the Anglican bishop of the newly created Diocese of Southwark. (the picture is taken from from the 24th floor of the nearby London Bridge House. The official title of Southwark Cathedral is the Cathedral and Collegiate Church of St. Saviour and St. Mary Overie, Southwark.
Those known to have been married here:
John Ratcliff and Ann Raffell, marriage date: 28 February 1803
James Reffell and Mary Waghorn, marriage date:14 February 1809