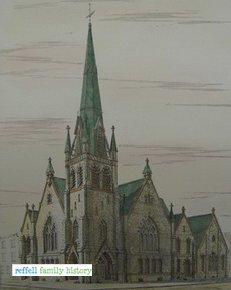 The church of the Holy Trinity in Bishop's Road, today called Bishop's Bridge Road, was originally built in 1846. This was a time of major growth and expansion in the area.
As was experienced with other churches in the Paddington area, by the 1970s there was a considerable exodus of the church population and subsequently the churches of Christ Church Lancaster gate and Holy Trinity Bishops Bridge Road were closed and the parish of St James Paddington was expanded into these areas.
The church was closed 1971 and the spire was demolished the following year. The church was left for a while, and various clubs used the crypt. However, the rest of the church was demolished in 1984 and subsequently the site has been occupied by the Holy Trinity Flats since 1986.
Those known to have been baptised here:
Frederick William Cannon, baptism date: 11 October 1863
Those known to have been married here:
John Fentem and Annie Reffell, marriage date: 2 June 1872
Mary Ann Louise Reffell and Frederick James Hewitt, marriage date: 15 November 1924