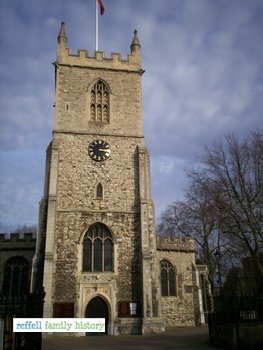 In 1935 Sydney Maddocks wrote "Although Stepney Church cannot claim to possess remarkable architectural features, it is one of the largest and finest of the medieval churches in the Metropolis. It is interesting for its historical appeal to the imagination of the English-speaking people here and in all parts of the world which is quickened by the memories of the close association of the parish and its church with the rise of England's maritime power and early colonial enterprise."
Originally a wooden structure about 952 the existing church was replaced with a stone church dedicated to All Saints. In 1029 Dunstan was canonised, and the church was rededicated to St Dunstan and All Saints. Up until the early 14th century the church served the whole of Middlesex east of the City of London, being known then grandly as 'The Church of the East End'. With the continued expansion of London new churches were built at Whitechapel and Bow, but it is still seen as the premier church. The current building is the third on the site and was built of Kentish ragstone mainly in the 15th century.
The church is surrounded by a churchyard of nearly seven acres (28,000 m²). In the 17th century the churchyard was enlarged to cope with the massive number of deaths during the Great Plague of London. At that time over six and a half thousand people died in one eighteen month period, with 154 being buried in just one day during September 1665.
The church has a long traditional link with the sea and many sailors were buried here. It was once known as the 'Church of the High Seas', until quite recently births, marriages and deaths at sea were registered here and the Red Ensign flies on the tower.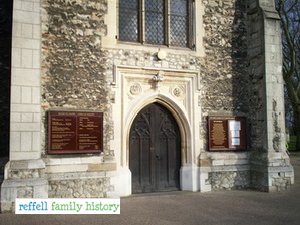 Those known to have been baptised here:
Charles Henry Dane, baptism date: 14 April 1858
Those known to have been married here:
James Burchatt and Mildred Buxton, marriage date: 12 July 1842
Samuel Lowin and Sarah Reffell Terry, marriage date: 29 January 1854
Charles Daniel Dane and Hannah Ann Wales, marriage date: 10 November 1856