Frank Alexander Reffell (1896-1984)
Royal Navy Submarines (Torpedoes)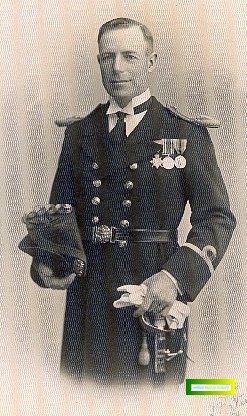 Frank Alexander Reffell was born on 17 December 1896 at 58 Stanbury Road Peckham to Edward Reffell (1851-1909) and Emily Louisa Fenton (1865-1916). He was the second of four sons and also had three sisters. His eldest brother was George Edward Reffell and he was the grandson of Henry Hatch Reffell.
Frank joined the navy at Devonport on his 18th birthday on 17 December 1914 as a Boy II initially for 12 years. He served on many ships and shore bases over the next decade including; Vivid, Dolphin, Defiance, Ariadne and Ambrose, rising through the ranks to become a Petty Officer in 1921. He stayed on after the end of the First World War through to the end of the Second, finally retiring as a Lieutenant at HMS Defiance (the Royal Navy's torpedo school) in 1948.
On 25 July 1927 he married Mabel Avent (1904-1982) at Godstone Surrey, with son John Vernon (1930-) eventually following his father into the navy.
After leaving the Navy, Frank and Mabel travelled around the world before eventually residing at 7 Ponsonby Road Plymouth, where Mabel died on 4 December 1982. He died at The Canadia, 41 Pearson Park Kingston-upon-Hull on 28 December 1984 aged 88.